In today's digital age, streaming has revolutionized the way we consume entertainment. One of the most popular devices that embodies this revolution is the Fire Stick, a compact but powerful streaming media player from Amazon. It lets you view your favorite TV shows, movies, games, and more on top services like Netflix, Hulu, HBO Max, Disney+, and Amazon Prime in one place on a popular and easy-to-navigate platform. Moreover, with the growing popularity of IPTV UK services, the Fire Stick offers even more options for accessing content tailored to your preferences. In this article, we'll take a deeper look at what the Fire Stick is, how it works, and the simple steps to set it up.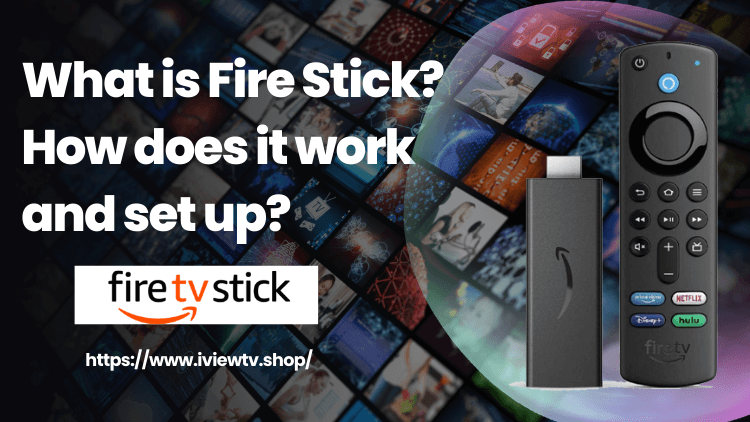 What is Fire Stick?
Fire Stick is a streaming media player developed and sold by Amazon. It is a small device that plugs into your TV's HDMI port, enabling you to access a variety of streaming content and services on your TV. The Fire TV Stick turns your regular TV into a smart TV, giving you access to popular streaming services like Netflix, YouTube, and HBO Max.
The Amazon streaming stick offers many models. The cheaper model lets you stream content in 1080p HD resolution, while the more expensive model lets you stream in 4K ultra HD. What you need to know is that it is an installation-based device. It does not support the Google Store service. FireStick, but, allows you to load third-party apps that are not available on the Amazon Store.
Read: Solutions: Why Is My FireStick Running Slow?
What does a FireStick do?
The Fire TV Stick is a streaming media player developed by Amazon that plugs into your TV's HDMI port. enabling you to access and stream a variety of digital content. You can get some information about the functions you want from FireStick:
Streaming Media: The Fire TV Stick streams movies, TV shows, music, and more from platforms like Prime Video, Netflix, and others.
App Install: You can install apps from Amazon's store, providing extra content and services beyond media. News, weather, games, and tools are examples.
Remote Control: The included remote navigates menus, selects content, adjusts volume, and some versions have voice control via Alexa.
Voice Search: Voice control allows content search without typing, simplifying finding movies, shows, and apps.
Screen Mirroring: Some models support screen mirroring, displaying phone or computer content on your TV.
Alexa Link: It integrates with Amazon's Alexa. The remote's voice button lets you command Alexa to search, answer questions, control devices, etc.
High-Quality Streaming: Models differ in video quality support, from HD to 4K, and HDR for richer visuals.
Customization: Personalize the interface by arranging your favorite apps on the home screen.
Parental Control: Set content restrictions with parental controls, helpful for families.
The Fire TV Stick turns your regular TV into a smart one, offering diverse digital content and features in a compact, user-friendly device.
What are the different Fire TV devices available?
Amazon offers a variety of Fire TV devices to suit different needs and preferences. You can choose the right equipment according to your preferences and cost performance. Below I have summarized the relevant content for you.
Type the name
Picture
Pros
Cons
Fire TV Stick Lite
1. Best budget option
2. Bluetooth
3. Native voice assistant (Alexa)
1. No 4K or HDR
2. No TV controls
3. No Ethernet connection
Fire TV Stick
1. Supports Dolby Atmos
2. The Remote has TV controls
1. No 4K or HDR
2. No Ethernet connection
Fire TV Stick 4K
1. Supports 4K
2. HDR
3. Dolby Vision
4. Dolby Atmos
1. No Ethernet connection.
2. No Google Play app
3. The menu system is still too bloated.
4. Need an inconvenient power adapter
Fire TV Stick 4K Max
1. Supports WiFi 6
2. 4K, HDR, Dolby Vision, and Dolby Atmos
3. More powerful processor
1. No Ethernet connection.
2. Too many ads.
3. An external power supply is required.
Fire TV Cube
1. Hands-free controls with Alexa
2. Includes Ethernet adaptor
3. Supports Dolby Vision and Dolby Atmos
1. Not portable.
2. The interface is too cumbersome, with too many sponsored banners and irrelevant menu options.
Fire TV Recast
1. Fire TV Recast is a high-definition antenna DVR that can record wireless TV without a monthly fee.
2. DVR for wire cutters, memory 500GB.
3. Alexa-compatible devices. You can control search programs and manage recordings.
1. You can only stream video to Fire TV devices, iOS devices, and Android mobile devices.
2. It doesn't work on devices like Roku, Chromecast, or Apple TV.
3. Record up to 2 programs at a time.
Fire TV Soundbars and Soundbases
1. Fast 4K video rendering
2. Elegant design
1. Subpar sound quality
2. Confusing setup
3. High price
Fire TV Edition Soundbars
1. Combine the function of the bar speaker with the function of the Fire TV, and integrate the Amazon Echo function.
2. Allow voice control of audio and video content.
1. To adjust the volume, go to the Fire OS Settings menu and unsync the remote control.
2. Outside of the built-in Fire TV operating system, determining the input for sound isn't that easy either
How does FireStick Work?
FireStick is a cost-effective and easy device compared to Roku, Chromecast, Android TV Box, and Mi Box S. FireStick has the most interface and is easy to set up and use.
The Fire TV Stick works by connecting to your TV's HDMI port and using your home's Wi-Fi network to stream content from the Internet. Here's a step-by-step breakdown of how it works:
FireStick Physical connection
Once you have purchased FireStick, you need to do the following:
Load the batteries into the remote control.
Plug the FireStick into the available HDMI port on your TV.
Connect the included USB power cord to the FireStick. Then plug the other end into a power source using either the provided adapter or the USB port on your TV.
Then wait for FireStick to start.
FireStick Indicates the initial setting
When you start FireStick for the first time, you need to set it up for the first time before you can use it. The setup process is actually very simple, you don't have to worry about it, I have prepared a detailed tutorial guide for you here. you can also check out the detailed tutorial guide: How to install IPTV on FireStick?
The first thing you need to know is to set up FireStick, you need to know the following:
Connect to Wi-Fi: Make sure you have a Wi-Fi connection and are within range of FireStick.
Sign up for an Amazon account: Your FireStick needs to be tied to an Amazon account. If you don't have an account yet, remember! Please register an account first, it is free. If you have an Amazon account with a Prime membership, I recommend signing in with the same account. There's a ton of Prime content you won't want to miss. If you purchased FireStick through Amazon and you selected the "Link to my Amazon Account to simplify setup" option during the sign-up process. the device is already logged in with your Amazon account.
FireStick User interface
Once set up, the Fire TV Stick interface will be displayed on your TV screen. The interface is designed to be and provide access to various functions and applications.
FireStick app download installation and content channel selection
You can access the Amazon Appstore from the Fire TV Stick's interface. Here, you can search for and install apps for streaming services (e.g. Netflix, Prime Video, Hulu), games, news apps, and more. If you are a fan of IPTV FireStick, you can also download a downloader and side-load your favorite IPTV subscription service on it. For example, XtrixTV IPTV.
If you're looking for something specific, go to the FireStick home screen and click on "Find">Search".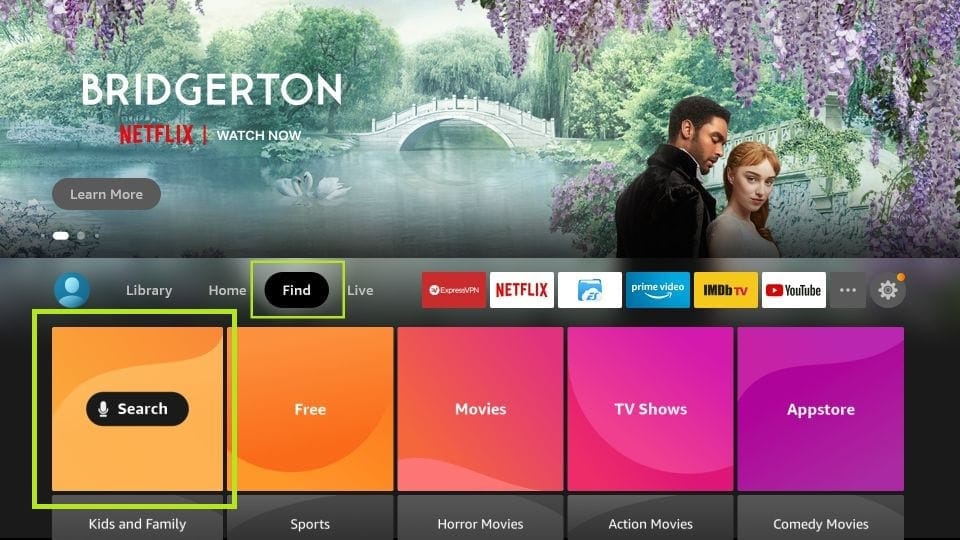 Here you can search for your desired application name and complete the installation now.
You can also find "Appstore" on the FireStick home screen. Get apps and channels.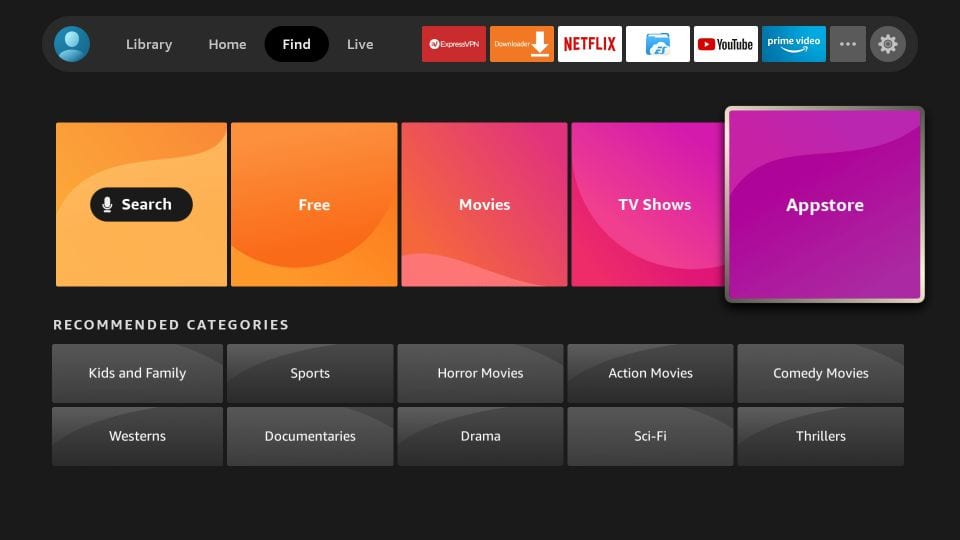 Next, you will find the options "All Your Apps", "Featured", "Games", and "All Categories". You can find your favorite content based on your preferences.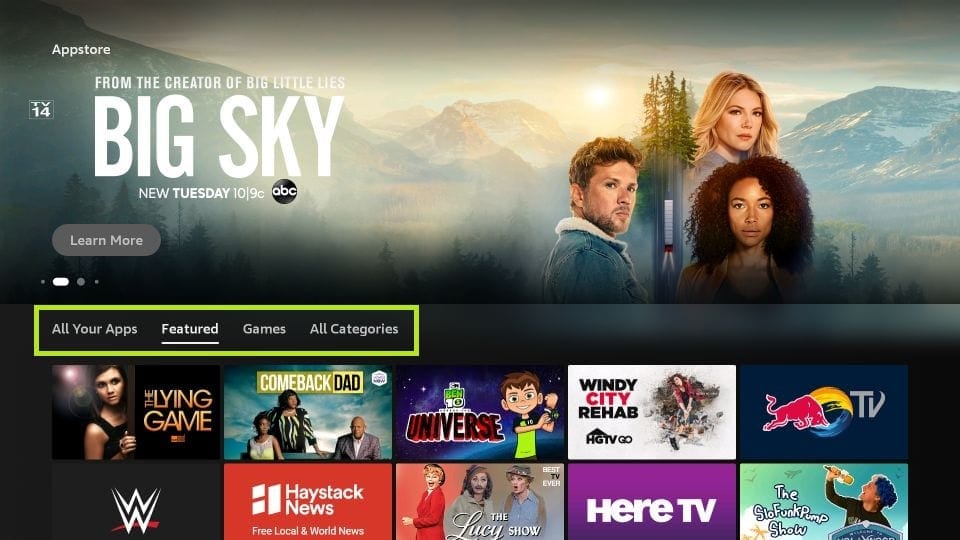 I usually choose All Categories to explore all the options category-wise.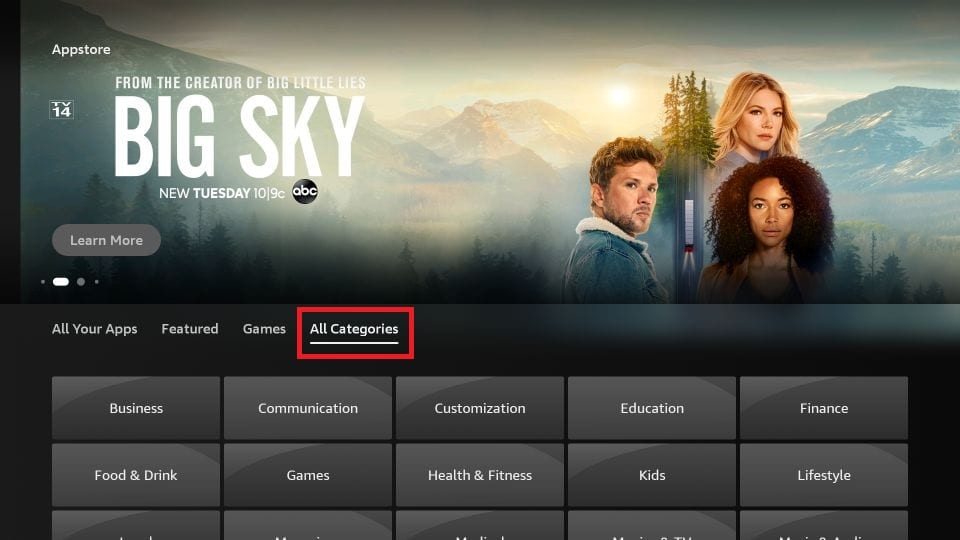 Next, you'll find all the categories available here. including some of your favorite TV movies, entertainment, news, business, newsletters, shopping, and more.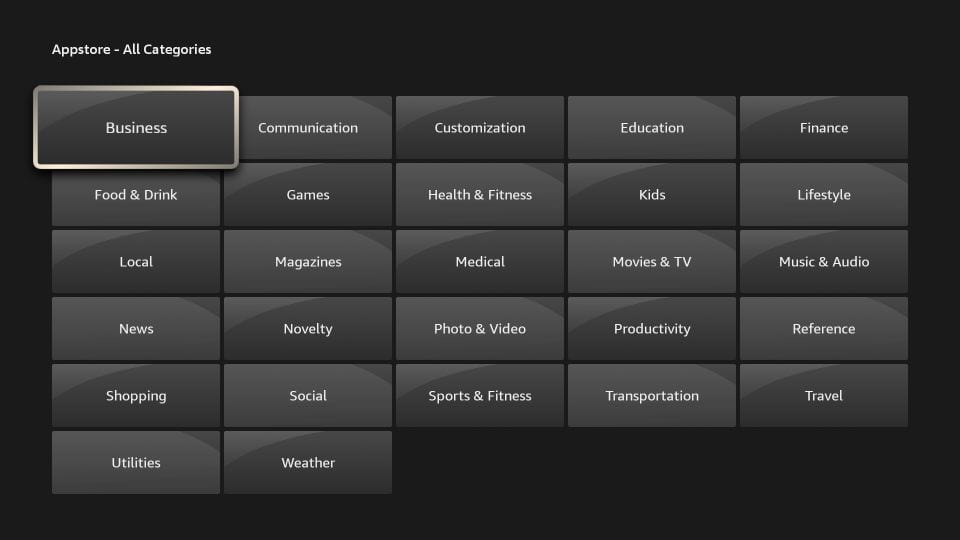 When you click on your favorite category, you'll see a list of relevant channels. For example, after clicking Movies and TV, I see the following: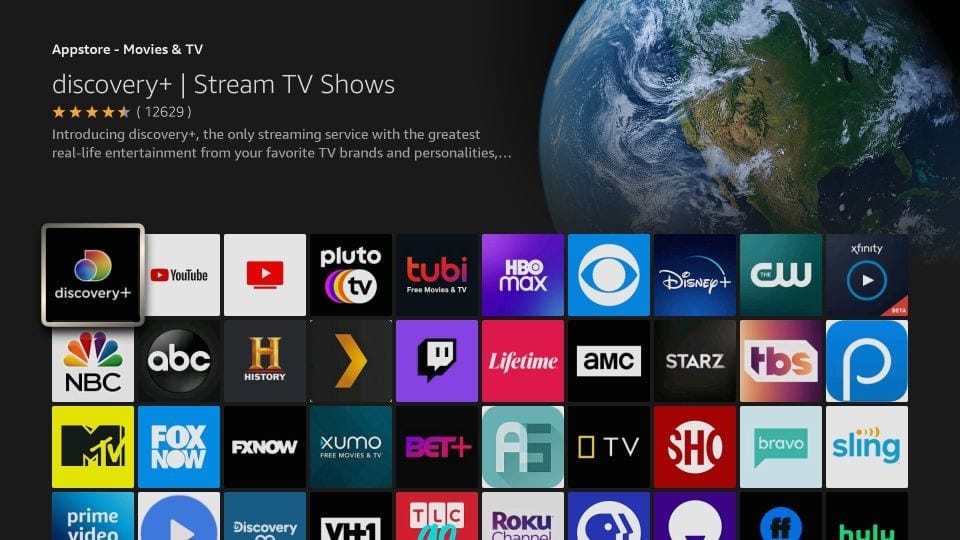 The above-mentioned content is how you can get your favorite apps and channels from the Amazon Store.
Other setting options for FireStick
Remote Control and Voice Commands: The included remote control allows you to navigate through menus, control playback, adjust volume, and more. Some remotes also feature a microphone button that activates Amazon's virtual assistant, Alexa, enabling you to use voice commands for searches and control.
Related: How to Reset Firestick to Set and Fix & Connectivity Issues: Reset Firestick Remote.
Voice Search: If your remote supports voice control, you can simply press the microphone button and speak your search query or command. For example, you can say "Play Stranger Things on Netflix" to start streaming that show.
Screen Mirroring: If supported by your Fire TV Stick model, you can mirror your smartphone, tablet, or computer screen on your TV. This is useful for sharing photos, presentations, or other content.
Updates: The Fire TV Stick may receive occasional software updates from Amazon. These updates can bring new features, improvements, and bug fixes to the device.
Customization: You can customize the Fire TV Stick's interface by arranging apps on the home screen, organizing content, and adjusting settings to suit your preferences.
How Does FireStick Work for Free Streaming
As for how FireStick enables free streaming, this one is the most popular among wire cutters. Because FireStick is able to stream unlimited free content. you can view free TV movies, live shows, sports events, and documentaries here.
Jailbreak FireStick
The real potential of Firestick is jailbreak Firestick. Once we jailbreak Firestick, you'll be able to access and run third-party streaming services on your device. Then access thousands of free movies, TV shows, live channels, sporting events, and more. Setting up Jailbreak Firestick is simple and easy, and you can set it up with a step-by-step guide.
Read: How to jailbreak Firestick?
Jailbreak FireStick means unlocking it to install third-party apps that have not been approved by Amazon. Benefits include access to more apps, customization, and free content. Here are some facts you need to know:
Jailbreaking DOES NOT harm your device
Jailbreaking DOES NOT void warranty
Jailbreaking DOES NOT require any technical knowledge
But Jailbreak FireStick comes with some risks.
Security: Sideloading apps can expose your device to malware.
Legal: Jailbreaking might involve illegal content and copyright issues.
Warranty: It can void your warranty, and unsupported apps might not work well.
Performance: Apps might not be optimized, leading to crashes and instability.
Consider risks before jailbreaking; official app options are often safer and more reliable.
Install APK on FireStick
While the jailbreaking process shows you the installation of the most popular apps. you can also install a large number of other third-party APKs on your device. For example, XtrixTV APK.
Here we go! Next, I'll walk you through a quick look at how to set up the Amazon Fire Stick.
How to set up the Amazon Fire Stick
Setting up the Amazon Fire Stick is actually very simple, you buy the Amazon Fire Stick out of the box. it comes with accessories and remote control for you, you need to set it up. Here I'll show you how to set up the Amazon Fire Stick. Please follow my steps and look down.
Note: Depending on the Fire TV Stick model and Fire TV software version, the steps may be slightly different. These instructions are based on the general setup procedure.
1. Amazon Fire Stick installation accessories
Open the box and remove the Fire TV Stick, remote control, USB power cord, power adapter, and remote control battery. First, you need to open the Amazon Fire Stick, connect the USB adapter on your device to the AC adapter, and then plug it into a wall outlet. But, if you have a USB connector on your TV, you can plug the USB adapter into the TV as a power source.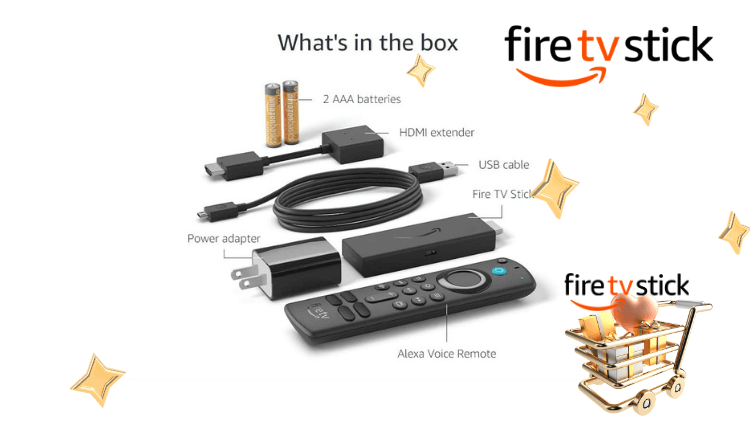 2. Locate the HDMI port on your TV.
Plug the Fire TV Stick into the available HDMI port on your TV.
Connect the USB power cord to the micro-USB port on the Fire TV Stick and plug the other end into the power adapter.
Plug the power adapter into the power outlet. The Fire Stick also comes with an HDMI extender, which you can use if the device is too bulky to fit in a tight space.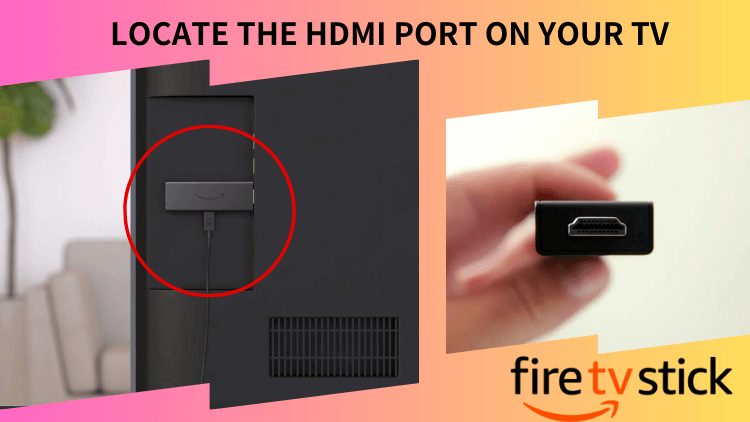 3. Turn on the TV.
Turn on the TV and use the TV remote to find the input or signal source button. And select the HDMI input that the Fire TV Stick connects to.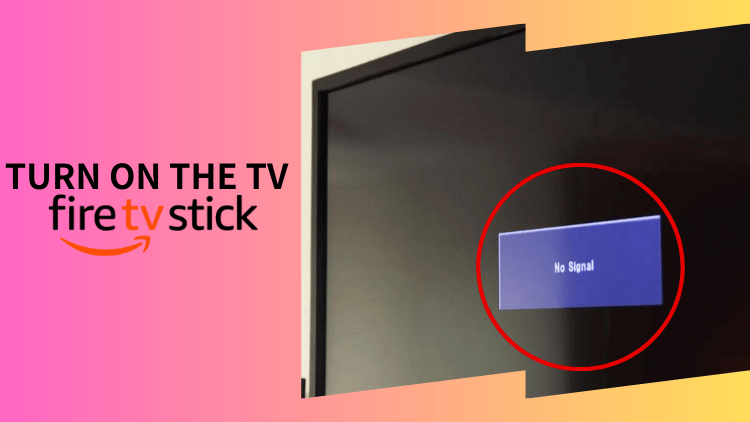 4. Pair the remote control.
Load the battery into the remote control.
Follow the on-screen instructions to pair the remote with the Fire TV Stick.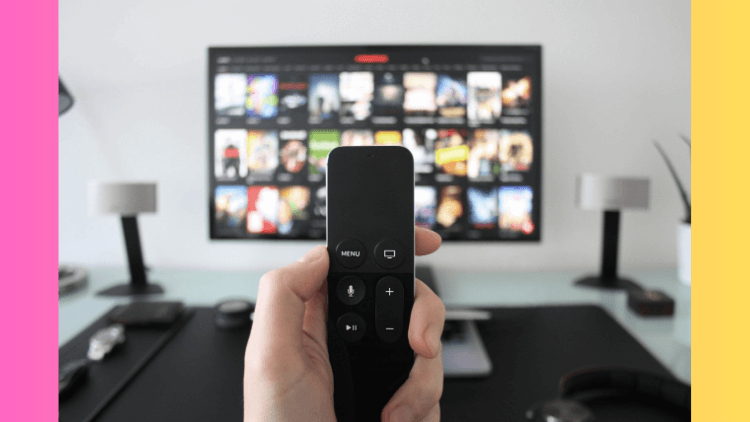 5. Follow the instructions and select a language and Wi-Fi.
Once the remote is paired, you'll need to follow the instructions on your TV using your Amazon remote. Press the input button (middle of the circle) to make a selection. The device then runs its configuration.
Next, you can choose your preferred Fire TV Stick interface language. Select your Wi-Fi network from the list of available networks. If prompted, enter your Wi-Fi password.
6. Login with an Amazon account.
If you already have an Amazon account, please sign in using your Amazon email and password.
If you do not have an account, follow the on-screen instructions to create one. You don't need an Amazon Prime membership to use the Fire Stick, an Amazon account. You can register one for free.
7. Parental Control center and voice Settings options.
You can choose to set parental controls to restrict access to content based on age. You also need to adjust the volume to make sure the remote is working. Because the Fire TV Stick Lite is the most basic model, it does not have the ability to control the TV on and off and the volume.
8. Install the application.
Use the remote to access the Amazon Appstore and install apps like streaming services, games, and more.
Every Amazon Fire Stick has voice control. You can access Alexa by pressing the microphone button. Alexa can change channels, tell you the temperature outside, adjust the volume on your TV, and more. If you have a connected security camera, you can even access video from other rooms in your home on your TV.
Read:
FAQ
1. Is there a monthly fee for Fire Stick?
There is no monthly fee for the Amazon Fire Stick, you only have to pay a certain amount at the time of buy, and there is no more cost later on. What you need to know is that some of the apps and channels on FireStick must have a subscription to access.
2. What exactly does the Fire Stick do?
The Amazon Fire TV Stick serves as a media streaming companion, granting you access to video streaming, app installation, and music playback on your television. Utilizing the Android platform, it transforms an ordinary TV into a smart one. Notably, you're able to install Android applications onto the device, enabling you to partake in gaming experiences and relish music as well.
3. What channels do you get with Fire Stick?
Amazon Firestick allows you to watch hundreds of channels, and you can view both free and paid channels here. These include some valuable live sports channels, boxing, TV movies, news entertainment, children's channels, and more…
4. What is the point of a Fire Stick if you have a smart TV?
No, if you have a smart TV, you don't need a Fire Stick. If you are looking for a streaming stick, then you have many options. Amazon fire rod is one of them! But there are many benefits to pairing the Amazon Fire Stick with a smart TV, and it's essential to use both. Their combination can become more versatile. Connecting your Fire TV to your smart TV will allow you to access apps that aren't available on your smart TV. Also, you can subscribe to apps that are only available to Fire TV Appstore users.
Can allow you to have a better user experience, and it is not uncommon to experience delays and glitches when using smart TVs. But the Amazon Fire Stick can help you solve this troublesome problem, allowing you to watch without lag performance.
5. Does Amazon Fire Stick need an Internet connection?
Yes, the Fire Sticks don't need Wi-Fi, but it does have to be connected to an Internet FireStick to work. You can also operate it in the form of a wired Ethernet connection, hotspot, or 4G hotspot box.
6. Do I need a VPN for Firestick?
Firestick does not must a VPN to work, but if you want to use low-cost or free services for streaming, for your security and privacy. You use the Best VPN for IPTV.
7. Can I use screen mirroring with my Amazon Fire Stick?
You can stream from your devices to your TV, provided they share the same Wi-Fi or hotspot connection. Go to the Fire Stick's Settings to select display and sound options. Enable display mirroring from there. For a detailed tutorial guide, you can view it here: How to Cast to Firestick.
8. What is the Difference Between Roku VS Amazon Fire Stick?
Roku offers an extensive array of channels and applications, some of which are exclusive to Roku. Conversely, the Fire Stick boasts a closer integration with Amazon's ecosystem. This translates to unrestricted access to Amazon Prime Video's content and seamless utilization of Amazon's Alexa voice assistant. If you would like to learn about other devices and feature prices, then you can find the Best IPTV boxes here.
Conclusion
As we conclude our exploration of the Fire Stick's features and setup, it's worth noting that this device has unlocked a world of entertainment at your fingertips. With its intuitive interface, app variety, and Alexa integration, the Fire Stick stands as a versatile media streaming solution. Whether you're enjoying your favorite shows on Amazon Prime Video or exploring a multitude of channels, this device has surely made its mark in the world of digital entertainment. And for those seeking even more diverse content options, the inclusion of Premium IPTV services can further elevate your streaming experience. So, whether you're a casual viewer or a dedicated binge-watcher, the Fire Stick has seamlessly merged convenience and entertainment, shaping the future of home entertainment.