If you have multiple devices, Xtrix TV offers you another option. You can purchase an IPTV home package, which provides IPTV service for up to four devices. You can use the same subscription transfer on any 4 different devices. You can watch a lot of live channels and shows.
This tutorial will show you how to get and use the Xtrix TV Plus family package. Subscribe to Xtrix TV so you and your family can enjoy great videos from all over the world.
What is Xtrix TV Plus IPTV Family Package?
XtrixTV is a premium IPTV service with over 1000 live channels, through 3000 latest movies, TV shows, live world sporting events, and much more! With a robust and stable application server, watch live TV without buffer and delay.
Xtrix TV offers a Plus version of its home plan that allows users to connect two to four devices, saving your family even more money.
See more information about what is Xtrix TV Plus IPTV Family Package.
Features of Xtrix TV Plus IPTV Family Package
1000+ live channels
3 days trial
Android devices
FAV&EPG
VOD with 3000+ latest and hot movies
7 days to catch up
PVR function
VOD with significant sporting events
A maximum of 4 devices can be connected
Save 60% for Family more Devices
Plus IPTV Family Package Usage guide
Let's take a look at the Xtrix TV Plus family package. I hope it will help you.
Part 1: How to get the Xtrix TV Plus IPTV Family Package?
Subscribe to the Xtrix TV Family Plan before you can use the Xtrix TV Plus version of the family plan. Otherwise, it cannot be used. Here are the steps:
Step 1: Open your browser and enter https://xtrixtv.shop/, then go to the Xtrix TV IPTV home page.
Step 2: Click the "subscription" button to enter the subscription page.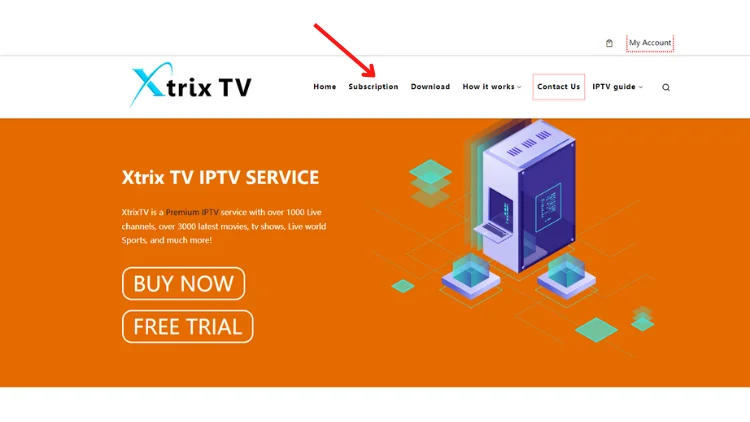 Please note: before clicking subscription, you need to register your own Xtrix TV account. If you haven't already, check out how to register your Xtrix TV account for free
Step 3: Scroll down, select Sub-device or Family Package #1/Family Package #2/Family Package #3(Plus), and click "ORDER".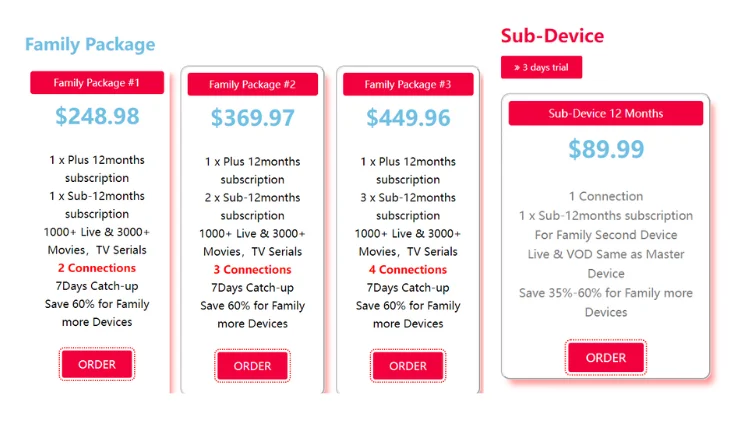 Step 4: After entering the ORDER page, click "PLACE ORDER".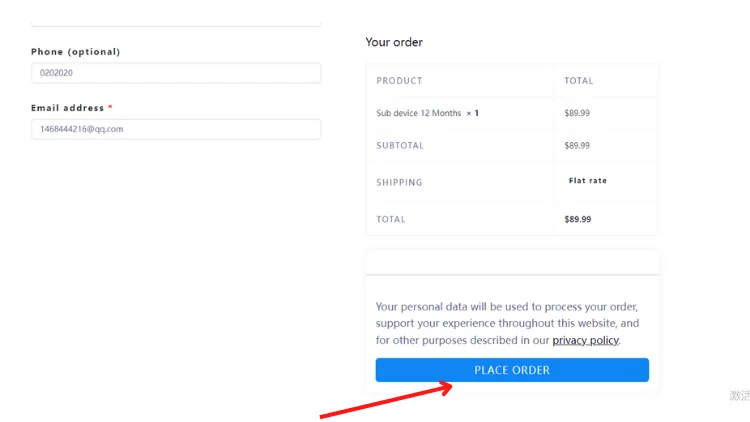 Step 5: Customer service will email you the IPTV subscription code.
Please note: Find the subscription code by (a) Go to My Account –Order –CODE (that is your Trial code), and (b) Or check your email/Spam. The Trial code is sent to your email automatically.
Again, remember the IPTV Subscription Code (Sub-Device Code and plus Subscription Code), which is the only certificate you have to log in and activate your Device!
Part 2: How to install and use the Xtrix TV Plus IPTV Family Package?
In contrast to most IPTV providers, Xtrix TV IPTV has its own set of APK installation packages. No need to go through a third-party application. Simply enter the Xtrix TV Plus APK download link on your device.
And allows a free trial of Family Package on Android TV Box/Firestick/Nvidia Shield/Google Dongle/ tablet. The following is a tutorial for installation and use.
Step 1: Install the sub-device APK on device B (child/slave device).
If your device A does not have the Plus version of APK installed, install it as well.
Step 2: Input the standard subscription code on Device B (after sub-device B is bound to Device A, Device A becomes the Master Device)
Step 3: After recharge, fill in the "sub-device code" to Device B again, and you can directly watch the live channel on demand.
label:
Device A (Xtrix TV has installed Plus APK, main device).
Device B (Subdevice APK, subdevice/slave device) has been installed.
IPTV Subscription code:
Xtrix TV Plus subscription code (main device subscription code begins with an Arabic number).
Sub device code (Sub device subscription code begins with the letter "e").
Part 3: Expanding your Knowledge: IPTV Family package details
What is an IPTV sub-device?
| | | | |
| --- | --- | --- | --- |
| Active Code | UserID | Type | Valid Until |
| e9123214143sc | 1111 | Master Device | 2021.06.08 |
| | 2222 | Sub-Device(Current Device) | 2021.08.17 |
IPTV Sub-Device can only run Sub-Device Application and share the valid subscription of Master Device, Sub-Device doesn't have its own subscription, and Sub-Device cannot recharge any active code.
To Use the Sub-Device, there are two steps
a. the user has to bind Sub-Device to Master Device by inputting any of the active code whichever been used on Master Device after Sub-Device code has been bound successfully to the Master Device, the user shall be able to to see the Master Device information as above Bold row.
b. the user has to recharge 'Sub-Device Code' to active Sub-Device after Sub-Device Code has been recharged, the user shall be able to see the valid period of Sub-Device as an above Italics row.
Sub-Device can only recharge the "Sub-Device Code". "Sub-Device Code" doesn't contain any subscription of channels. "Sub-Device Code" can be only used to extend the valid period of the Sub-Device device. There are two kinds of Sub-Device Code: 3 days free and 12 months Paid. if Master Device's subscription has expired, Sub-Device cannot watch Channel as well.
Sub-Device can only work in same home Network of Master Device". If Master Device and Sub-Device work from different Networks at the same time, the user account will be blocked. If not at the same time, Master Device or Sub Device can work from different Networks (Any place, different IP supported).
What is Master Application : (normal plus application)
| | | | |
| --- | --- | --- | --- |
| Active Code | UserID | Type | Valid Until |
| 912321414912c | 1111 | Master(Current Device) | 2021.06.08 |
| | 2222 | Sub-Device (STB) | 2022.08.11 |
| | 3333 | Sub-Device (PAD) | 2020.12.23 |
One Master Device can support two Sub-Devices at maximum.
If Master Device is broken, the user can move the subscription to a new Master Device without effect Sub-Device.
Sub-Device ID picture Sample like as bellow: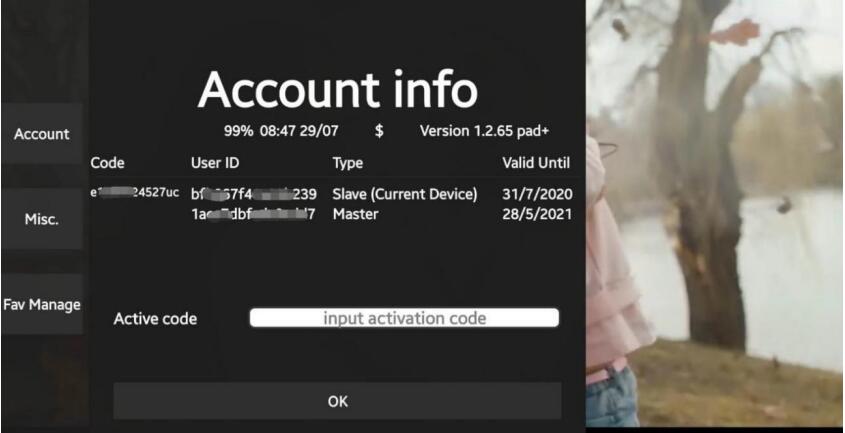 FAQS
After ordering the family package, can I use it on different IP or ISP?
Watching on one device, you can connect any TV to any Internet provider in the world. 2. With the family package, If more than two devices watching at the same time, have to be at the same IP address or ONE IP Network (ISP) . 3. If not at the same time, different IP or ISP is no problem.
How do I activate the second/third/fourth device? How to use the Sub device subscription code?
Install APK on sub-devices (the second, third, and fourth devices). 2. Bind the sub-device to the master device (the first device) by entering the subscription code used on the primary device (XXXXXXXXXXXXC). 3. Fill in the sub-device subscription code (exXXXXXXXXXUc) to the 2nd/3rd/4th device. When the sub-device code is recharged, you can enjoy IPTV.
What are the functional differences between master-Device and sub-devices?
1.99% same, including all live channels and VOD. 2. The only difference is: The sub-device does not have a cloud PVR function. Because the current system does not support it.
Can one code be used on multiple devices?
Sorry, can not. One subscription code can be used on only one device. After activation, the subscription is locked on the device. If want to use it on another device, please contact us to transfer.
Related articles
What is Xtrix TV Standard Family Package?
How to get and use the Xtrix TV Standard Family Package?
What is Xtrix TV Plus IPTV Family Package?