XtrixTV IPTV is one of the most popular live TV options among cord-cutters, especially sports fans. You can enjoy the best IPTV Trial with XtrixTV fully Free for 3 days. Test the quality streams and stability and then decide to Buy an IPTV subscription.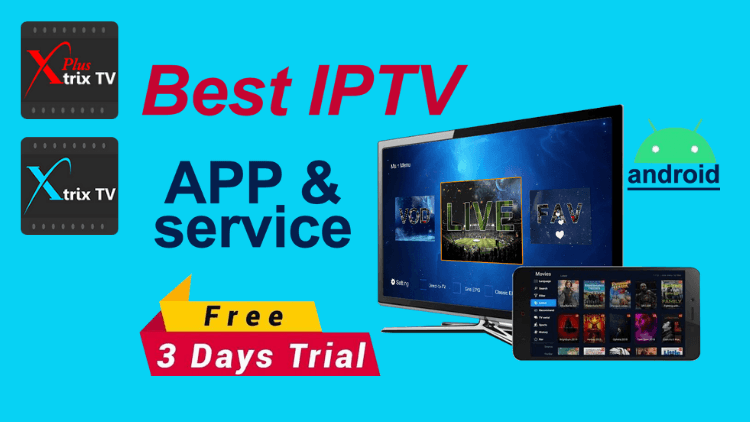 Here is a step-by-step free trial of the IPTV tutorial
How to take a Free Trial with XtrixTV IPTV?
Free Trial on Android TV Box / Firestick / Nvidia Shield / Google Dongle / Tablet?
Step1: Download and Install Xtrix TV APK
Step2: Get an Xtrix TV Trial Code
Step3: Activation Xtrix TV IPTV Code
How to Register and Activation XtrixTV IPTV Video Tutorial
The following video allows you to register and get the IPTV activation code to complete the IPTV instant activation. Enjoy quality live channels and sporting events.
If you're new to IPTV, read on for the ultimate guide to getting a free IPTV trial
Step1: Sign up for an XtrixTV store Account
The XtrixTV Store account is completely free to register, and once you have an XtrixTV Store account, you will be able to start a three-day IPTV trial. The registration process is very simple, please follow me.
-1 Open your browser and go to the MY ACCOUNT | XtrixTV.Shop , Click Register Now
-2 Enter Username, Email, Password, and check I'm not a Robot and click Register.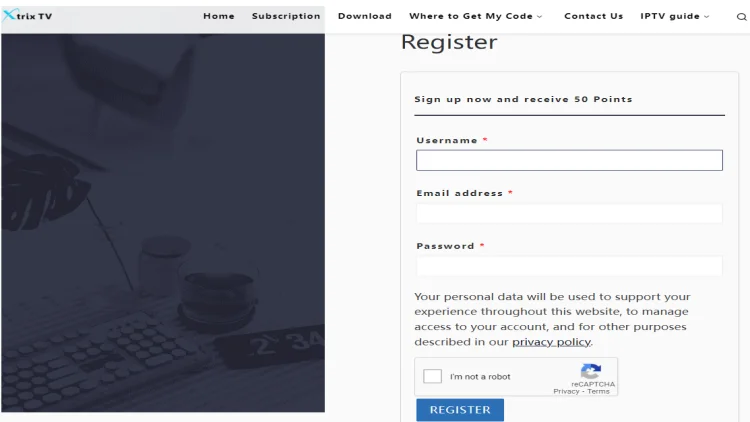 -3 Open your email, find the email we sent you to activate your account, click the activation link, and your account will be registered successfully. Please note that activation messages may be in your spam mailbox.
Step2: Strat a 3 day IPTV trial for Free
-1 Log in to your XtrixTV Shop account
-2 Click the Subscription button on the top menu
-3 Click 3 Days trial, Start an IPTV Trial for free
-4 ADD TO CART, Fill in basic information, and Click PLACE ORDER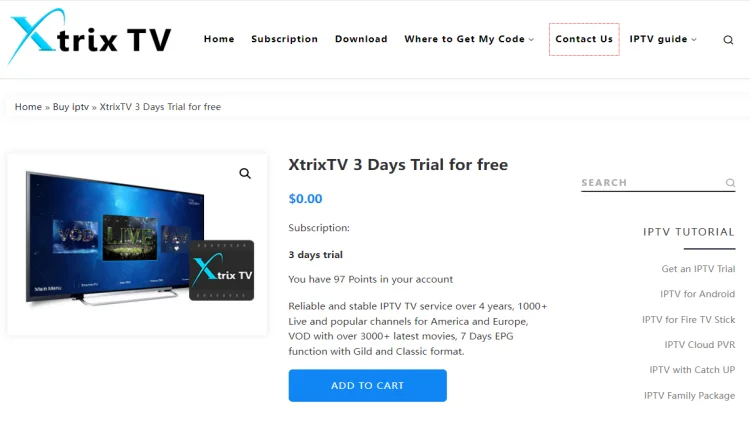 -5 When your order is submitted, our system will send the IPTV subscription activation code to your email and your store account.
Note: Go to My Account – Orders – CODE (that is your subscription code)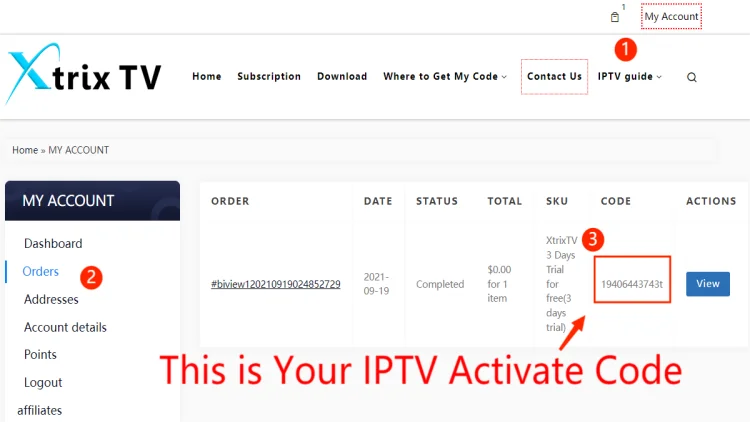 Step3: Download and Install IPTV to your Android Device
Free Trial on Android TV Box / Firestick / Nvidia Shield / Google Dongle / Tablet?
-1 Open the Downloader App on your Android Device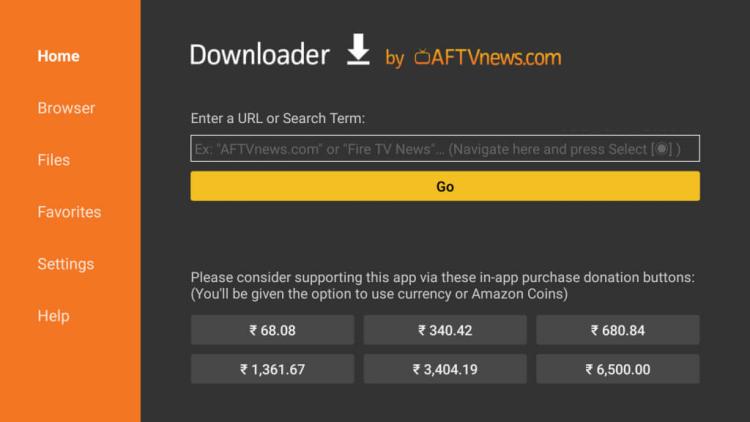 -2 Type in:
XtrixTV (Blue): https://www.iptvapkdownload.com/app/stbxtv
XtrixTV Plus (Red): https://www.iptvapkdownload.com/app/stbxtvp
Sub-Device: https://www.iptvapkdownload.com/app/substb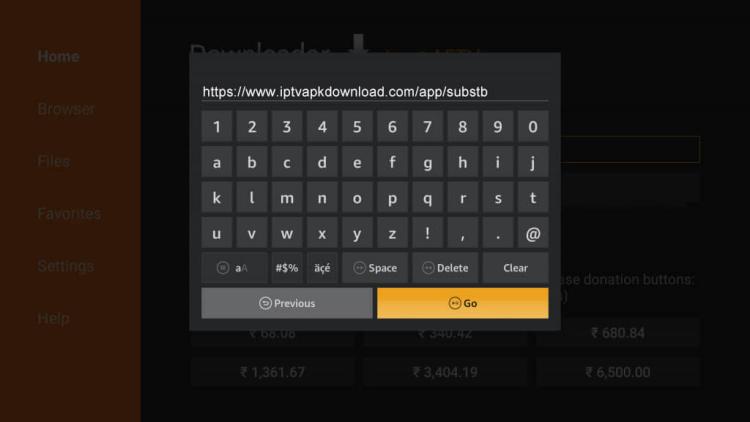 -3 Allow installing from the source. (Enable allow Install Unknow Apps)
Step4: Activate IPTV subscriptions
-1 Open the XtrixTV APP and Click Settings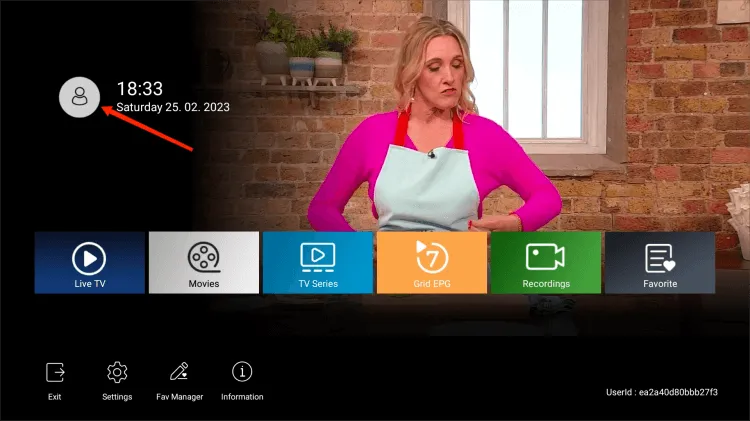 -2 Enter your IPTV activation code
-3 Enjoy the best IPTV subscription
How to Renew Your Subscription
To renew your subscription you must go to the 'Subscription' page again to select the same subscription or different subscription to renew.
Last Step…
I highly recommend buying/using the Amazon Fire TV Stick. It's cheaper and yet powerful and works great with all IPTV services and apps. You get a remote control and Alexa Voice for voice commands. You can connect the Firestick to any HDTV or Smart TV with an HDMI port.
I hope this tutorial for Xtrix TV IPTV Free Trial and Xtrix TV Subscription helped you understand how to get set up.
Get Your IPTV Free Trial or Subscription Here and Watch Your Favorites Online
Related: IPTV Subscription Payment Failed. For more tutorials, see the IPTV Blog page.
For more detailed tutorials, check out the XtrixTV Guide List.
FAQ
1. How to get the IPTV code?
The test code is free, you need to go to the website to register an account.
2. Where can I get my subscription code?
After login, please view it in my account – My Orders – View Orders -SKU/IPTV CODE.2.Check email to get subscription codes
3. Why can't use the free trial code?
There may be several reasons why using code doesn't work. If your trial code is obtained from our website, then it can be activated with no problem.
Check as follows:
fill in the correct subscription code.
If with the problem, check whether the correct VERSION of APK is installed.
There are two versions: Standard(Blue color), and Plus (Red color), they are using different free trial codes.
Or your device used a trial code before. One device only can use a free trial code for one time. if you want to test the trial again, please contact us and renew for you by hand.
Still with the problem, please contact our support email.
4. What is the code for IPTV?
It could be a string of letters and numbers. Or individual numbers. You will need to select the IPTV service. This password depends on the server you are using.