In this era of new opportunities, we have a new possibility to Jailbreak Google Chromecast. As the technology continues to evolve, more and more users are eager to unlock more potential on Chromecast, making it an even more powerful and versatile device. Chromecast is a digital media streaming device developed by Google that provides users with the convenience of wirelessly transmitting audio and video content. By jailbreaking, you can further expand its capabilities and enjoy the rich entertainment content brought by Android IPTV.
Before jailbreaking Google Chromecast, it's important to understand what it does. Chromecast allows users to wirelessly stream audio and video content from smartphones, tablets, and computers to TVs or displays with HDMI ports, allowing you to enjoy online video, music, and photos on a large screen.
However, jailbreaking can give the device a whole new lease of life. By jailbreaking, you can explore a wider range of applications and features, unlocking the potential of Google Chromecast. The latest version of "Chromecast with Google TV" cleverly combines transmission capabilities with an integrated Google TV interface to bring you a more user-friendly and immersive streaming experience. You'll be able to easily browse a variety of entertainment options and discover personalized recommendations that will allow you to enjoy the rich content that Android IPTV has to offer.
In this comprehensive guide, we'll walk you step-by-step through the process of jailbreaking Chromecast with Google TV, while highlighting the benefits and potential risks associated with doing so.
This process is very similar to our popular Jailbreak Firestick tutorial, in that both methods require enabling applications from unknown sources in the developer options.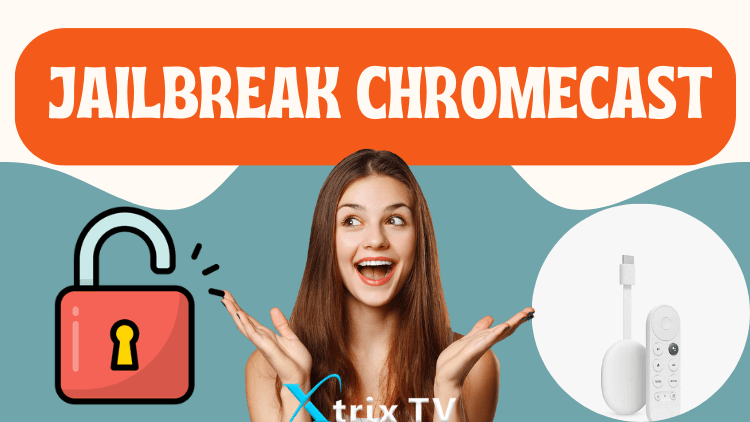 What does jailbreaking a Chromecast do?
Jailbreaking a Chromecast means bypassing its restrictions to gain unauthorized access and control over the device's software. This allows you to install unofficial apps, customize settings, and access features not originally intended by the manufacturer. However, jailbreaking comes with risks like security vulnerabilities, voiding the warranty, unstable performance, and legal issues. It's important to be cautious and aware of the consequences before attempting to jailbreak a Chromecast or any device.
But jailbreaking can be dangerous if you want to be able to stream your favorite shows securely and stably on your Google TV. Then you need to choose the best VPN to help you meet it. And it's a great way to get around your ISP in case your IPTV is blocked from watching some of your favorite shows because of regional restrictions.
Why Jailbreak Chromecast
Jailbreaking a Chromecast is done to gain unauthorized access and control over the Chromecast device's software. This allows Chromecast users to install unofficial apps, modify settings, and access features not originally intended by Google, the manufacturer of Chromecast. However, it's important to note that jailbreaking a Chromecast comes with risks such as security vulnerabilities, voiding the warranty, unstable performance, and potential legal issues. Therefore, one should carefully consider the consequences before attempting to jailbreak a Chromecast or any device.
Jailbreaking Chromecast also means you can watch more "pirated content," a concept that Apple users should already be familiar with. You can install more third-party apps and watch more TV, movies, live sports, games, and more, some even for free.
You can also customize the Chromecast interface, look, and Settings, as well as advanced streaming options and network configuration Settings. But I think most users want to jailbreak Chromecast to lighten the load on their pockets.
If you want to save yourself more and check out your favorite sports events and programming channels on Google TV, Then you can choose the Best Free Sports App For Firestick, the Best USTVGO TV Alternatives, and Free Boxing Streams.
Jailbreak Chromecast benefits
Jailbreaking a Chromecast involves modifying its software to access features not officially provided. While this can offer customization, third-party apps, and more control, it comes with risks. Jailbreaking may void the warranty, pose security threats, and breach terms of service. Benefits include customization, using unofficial apps, accessing restricted content, and advanced controls. However, it can lead to instability, security issues, and legal problems. Before jailbreaking, research thoroughly and weigh the pros and cons carefully.
Jailbreaking Chromecast Details
If you want to learn more about Chromecast with Google TV. The first thing you need to know is that Chromecast with Google TV is powered by the Android operating system. So if you want to jailbreak on Firestick, then the device will offer you the possibility of wireless. Android is by far the most popular operating system in the world, with more than a billion users.
It also succeeded in getting more people using Android apps to install the jailbroken Chromecast with Google TV.
Here you need to select the most stable APK application. If you want to read about Chromecast Reviews and the best Android IPTV boxes, click here. Here you need to find an IPTV service that works with Chromecast with Google TV.
How to Jailbreak Chromecast With Google TV – Video
In order for you to have a more intuitive feeling of how to jailbreak Chromecast, you can first have a basic understanding through this video, or through this video already understand how to operate, and succeed, that will be very happy.
How to Jailbreak Chromecast With Google TV
Some users prefer a step-by-step tutorial with screenshots, so we try to accommodate that as well.
Before you can jailbreak Chromecast with Google TV, you will first need to start a risk-free VPN.Best VPN for IPTV
As with the jailbreak Fire Stick, first, get your device to complete the downloader installation as well as enable the developer option.
1. Click on "Apps" in the main menu.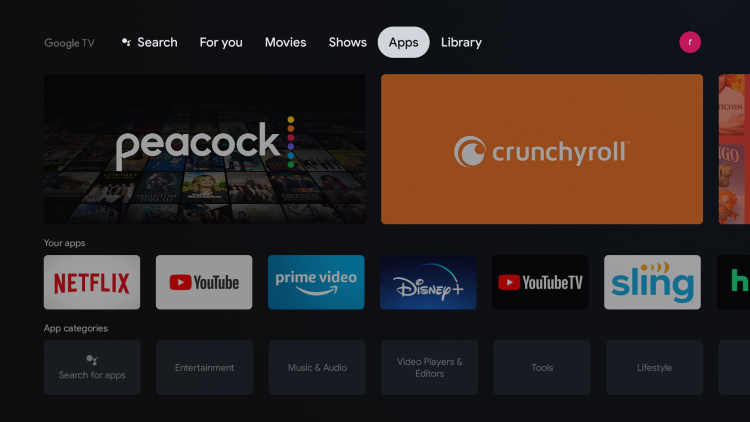 2. Click on "Search Apps"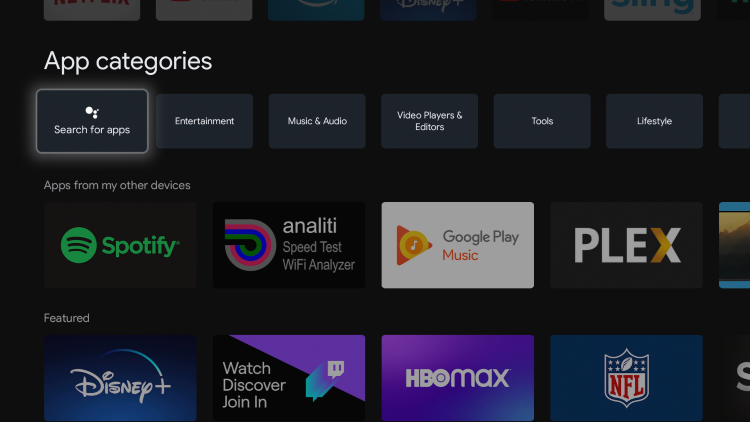 3. Enter "Downloader" (AFTVnews) in the input field.
4. Click on the icon that appears and install it. When finished, return to the Chromecast home screen.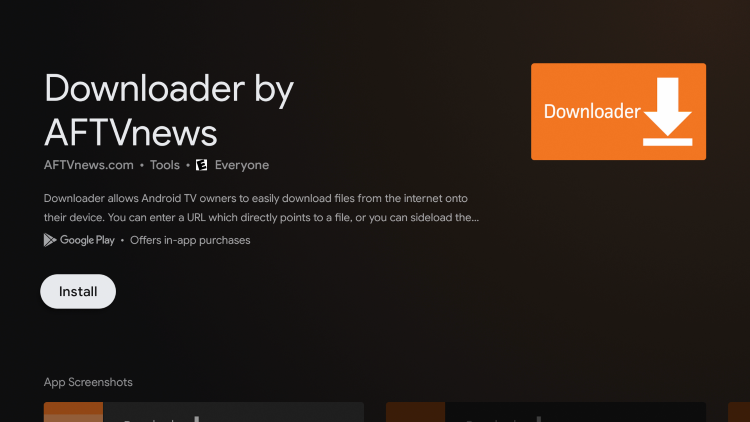 5. Click on "Settings" – "System" – "About"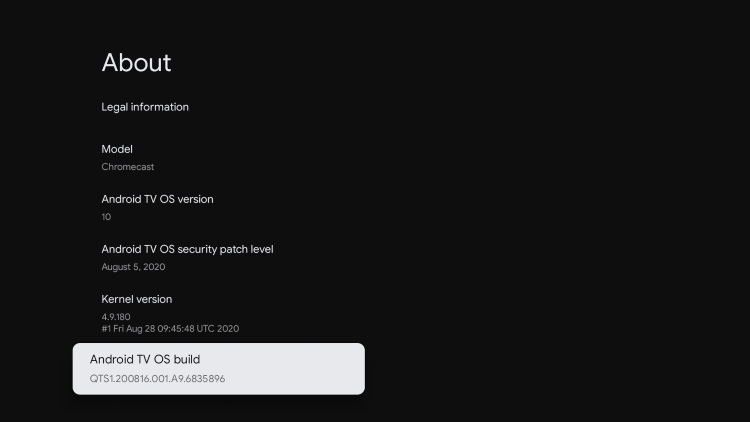 6. Click Android TV OS build about 7 times until you see the message Developer options are enabled
7. Once the developer option is enabled, you will notice a message that says "You are now a developer!"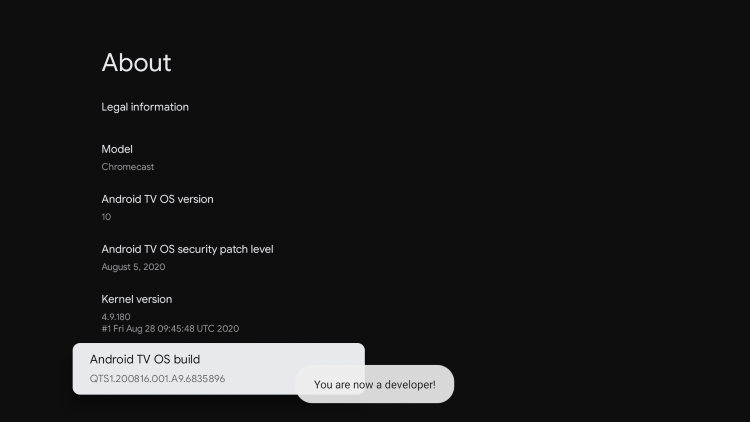 8. Go back to "App" in Settings, click on "Security and Restrictions"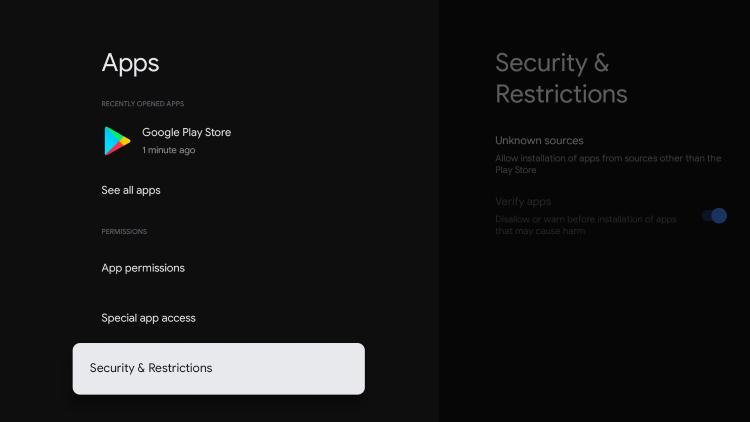 9. Select Unknown Sources
10. Open the unknown source for the Downloader application.
11. That's the whole process.
Related:
Install Google Alternative App Store -Aptoide TV
After completing the Downloader, you can download and install a Google alternative app store: Aptoide TV in the downloader. Because installing this third-party app store allows you to have thousands of apps that are not available in the Google App Store, it is arguably the best alternative to the Google App Store.
Follow these steps to install this alternative app store on your Chromecast with Google TV.
1. Open the downloader, enter the address of the third-party APK application that you want to download in the URL bar, and click GO.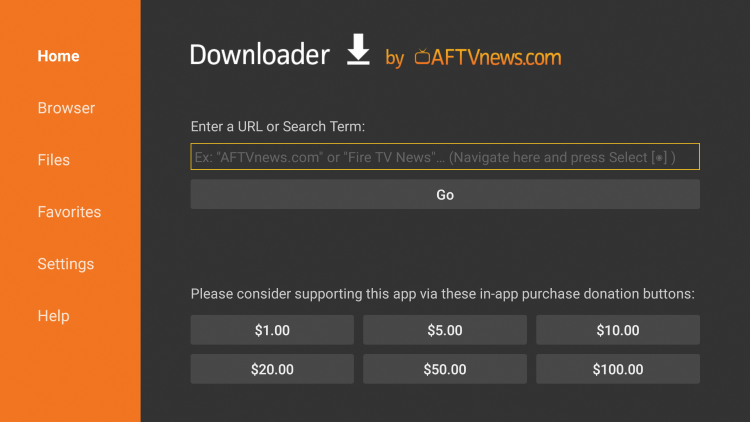 Note: This APK download address refers to the installation file hosted on aptoide.com.
2. Wait for Aptoide TV to be installed.
3. Click INSTALL.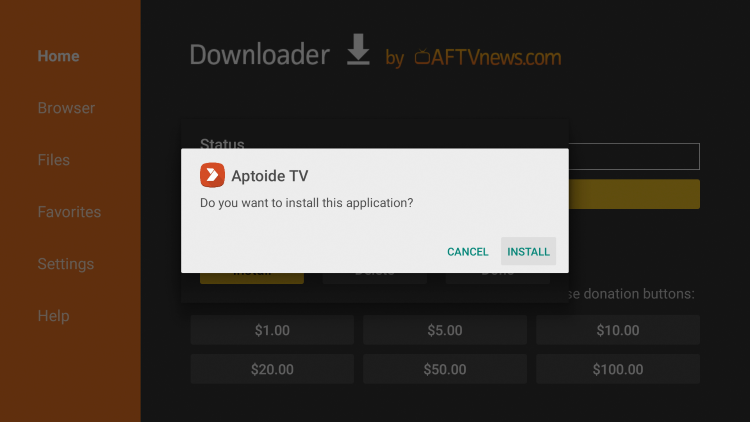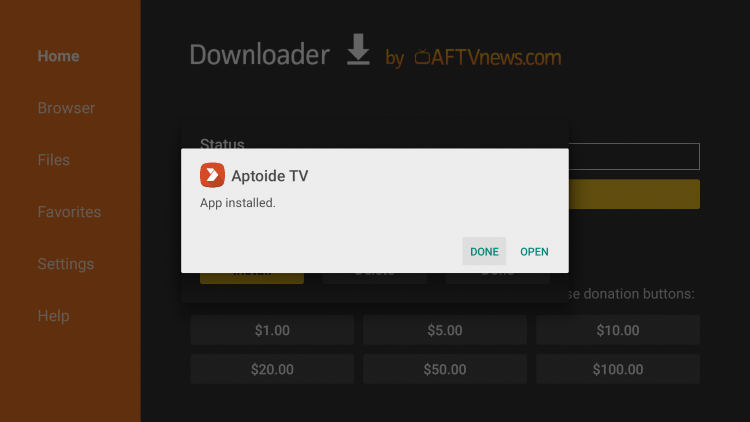 5. A window prompts you to delete unnecessary installation files on Chromecast with Google TV. You need to click Yamashita Lake and confirm again to delete it.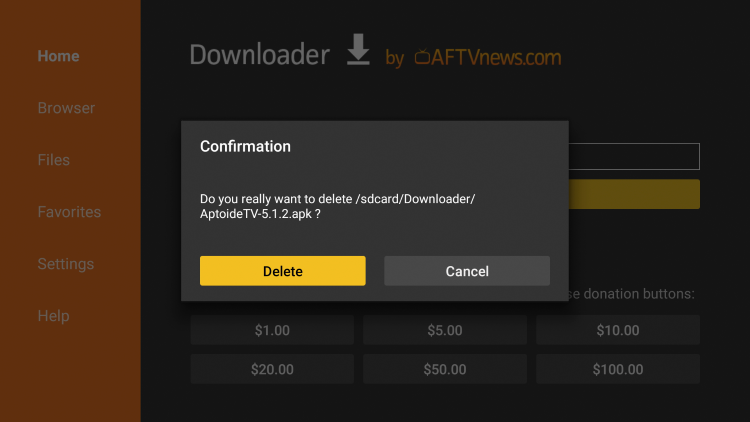 6. Go back to 'MY APPS 'and find the installed Aptoide TV.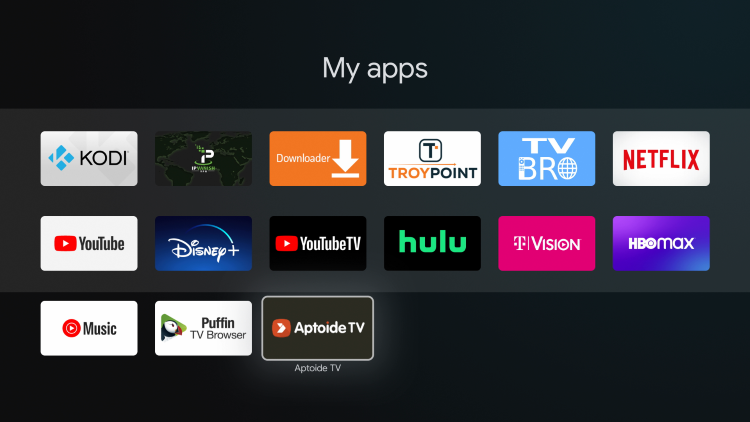 7. Launch Aptoide TV and click "OK".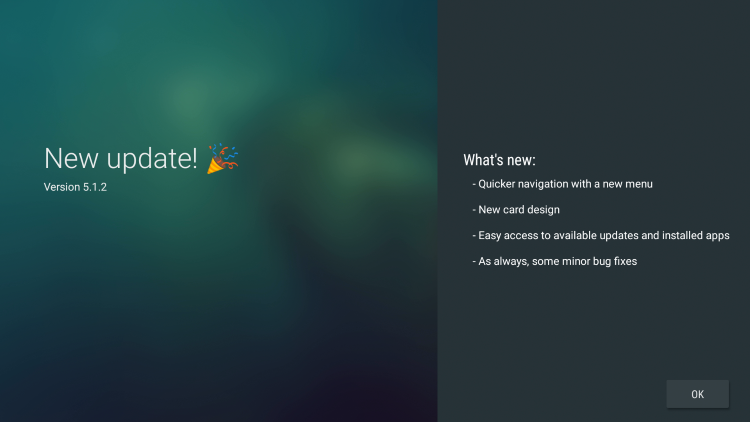 8. Click "Allow".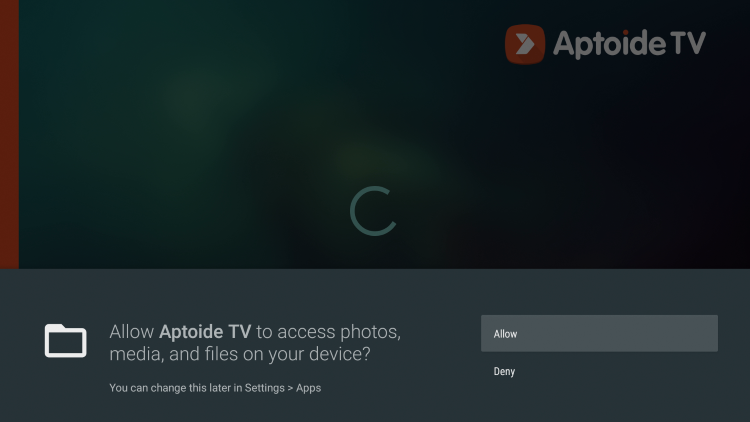 9. You can now have installed the alternative app store Aptoide TV on your jailbroken Chromecast with Google TV.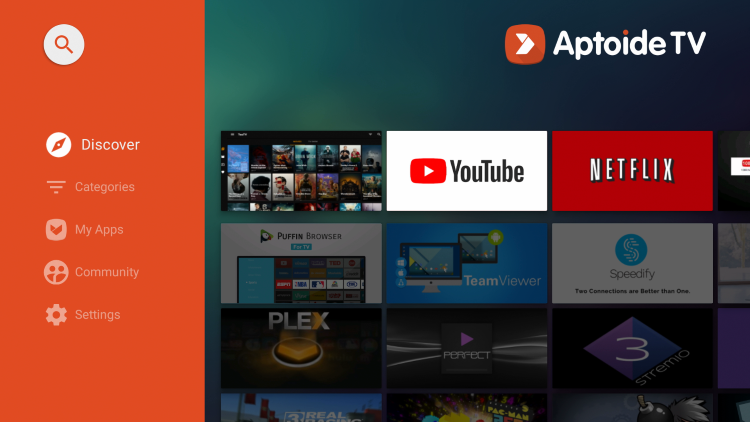 How to Install Kodi on Google TV using Chromecast?
Google Chromecast allows you to install Kodi on your Google TV. But, if you don't have a Chromecast at home but still want to stream the app on Google TV, you can side-load it as well. Here you can have two ways to stream Kodi on your Google TV. If you are new to IPTV, I will detail one of the easy ways. Follow these steps.
1. Start the downloader and enter the Kodi APK application link in the search box. Click "GO".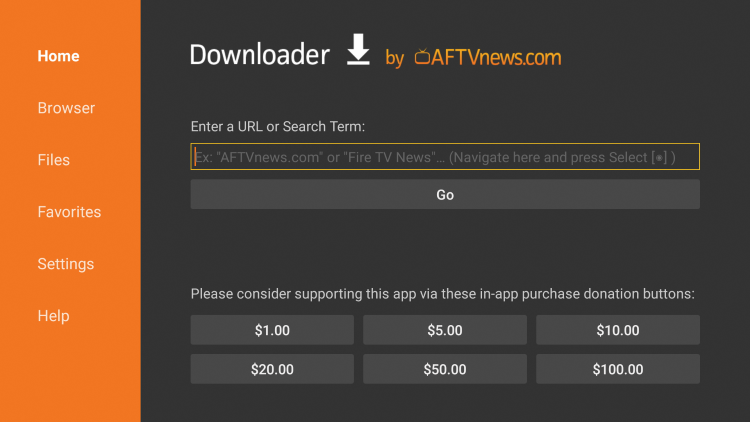 2. Wait a few seconds and click INSTALL.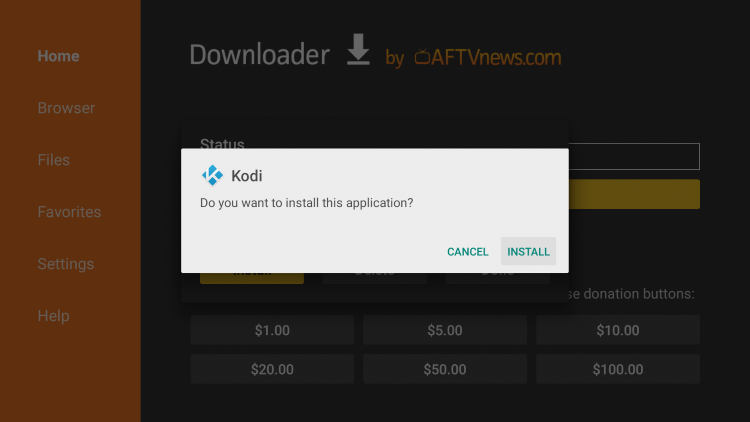 3. Now that the Kodi app is installed, click "DONE."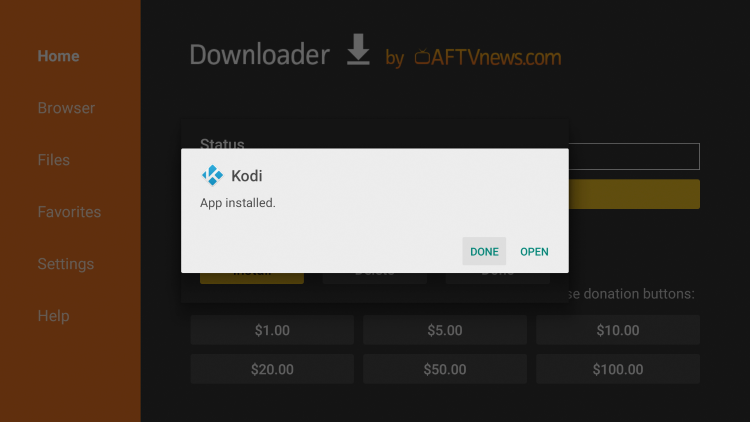 4. Click the Delete button. This operation needs to be deleted twice.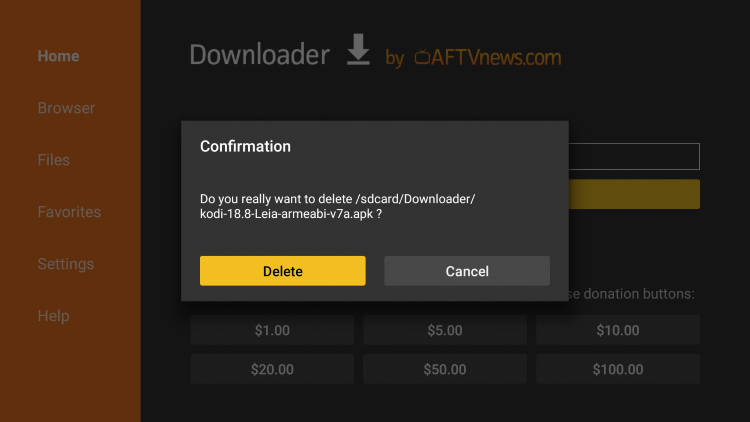 5. Open the ALL APPS screen and find the Kodi app.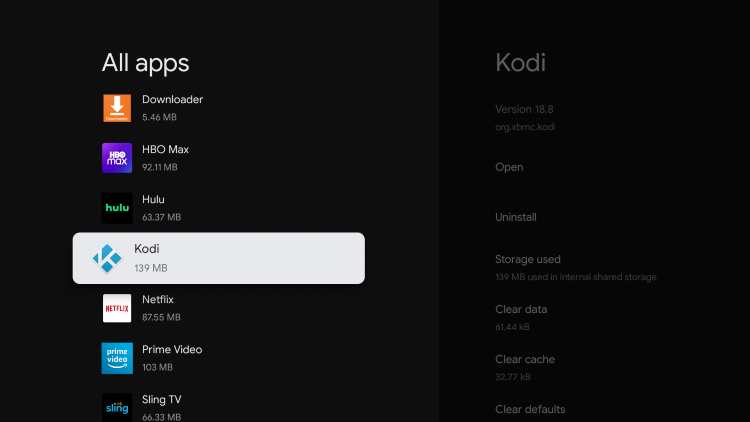 6. You have now installed Kodi on your jailbroken Chromecast with Google TV.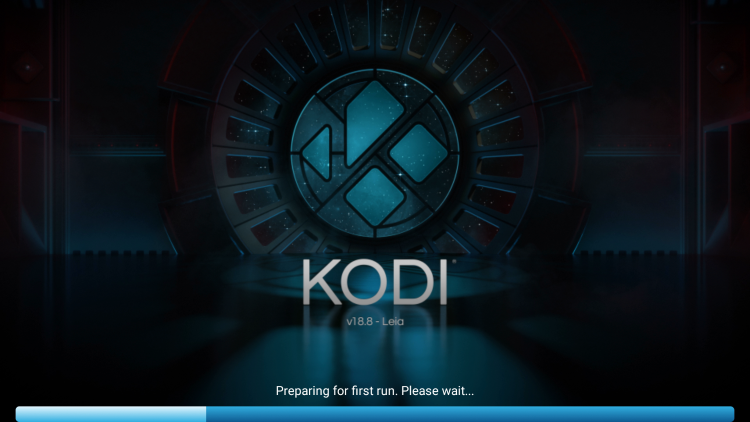 There is also a way that you can search for the Kodi app on your Google TV and select the official app. Download and install Kodi without installing it on Chromecast with Google TV.
Related:
Jailbreak Chromecast VS Firestick
Here's the comparison of "Jailbreak Chromecast" and "Sideloading on Fire TV Stick" presented in a table format:
| Features | Jailbreak Chromecast | Sideloading on Fire TV Stick |
| --- | --- | --- |
| Process | Modify Chromecast's software to access unofficial apps and features | Install apps from sources outside Amazon Appstore |
| Warranty Implication | May void the device warranty | Generally does not affect device's warranty |
| Security Risks | This may expose the device to security risks | Lower risk, but caution needed in app source selection |
| Manufacturer Policy | May violate Google's terms of service | Option available in Amazon device settings for "Unknown Sources" |
| Functionality | Offers customization, unofficial apps, and features | Allows installation of unofficial apps |
| Risks | Security vulnerabilities, instability, legal issues | Generally lower risk, with apps potentially being less stable |
| Access to Unofficial Apps | Yes | Yes |
| Impact on System Stability | May be unstable | Generally does not impact system stability |
| Legality | Risk of legality issues, potential copyright concerns | Legal, but app legality should be considered |
| Technical Knowledge Required | Requires some technical knowledge | Requires some technical knowledge |
| Content Source Responsibility | User's responsibility to ensure legality | User's responsibility to verify app legitimacy |
It's important to consider that each option comes with its own set of risks and advantages. Prior to taking any action, thorough research should be conducted, and actions should align with legal obligations and personal risk tolerance. Please note that policies, features, and methods may change over time, so consulting the most up-to-date information is recommended.
Related: How to install IPTV on Firestick and Beginner's Guide: How to Jailbreak Firestick.
FAQ
1. Can Chromecast install APK?
By default, Chromecast devices, including Chromecast with Google TV, do not support the installation of APK files or third-party applications directly on the device. Chromecast is primarily designed as a streaming media player that relies on casting content from compatible apps on your phone, tablet, or computer.
The Chromecast device itself does not have an interface for installing or running standalone apps. Instead, it acts as a receiver for streaming content from supported apps on your casting device. You can control the content playback and settings through your casting device and supported apps.
However, it's important to note that Chromecast with Google TV, which includes an Android-based operating system, does have an app store called the Google Play Store. You can browse and install apps available in the Google Play Store specifically designed for Chromecast with Google TV. These apps are vetted and approved by Google to ensure compatibility and a seamless user experience.
If you need more apps from third-party sources, use the jailbroken Chromecast mentioned in the article.
2. Can I Chromecast any app?
Numerous popular apps allow you to cast content to your TV screen via Chromecast. While many of these apps work on both Android and iOS devices, not all are compatible with every platform. Additionally, you can cast various Chromecast apps from a PC by simply visiting the app's website using the Google Chrome browser.
3. How do I allow unknown sources on Chromecast?
Click on Apps –> Security & Restrictions –> Unknown Sources. Chromecast with Google TV: Install apps from unknown sources setting enabled.
4. Is it legal to jailbreak?
The legality of jailbreaking or bypassing restrictions on devices varies depending on the country and its specific laws. In some regions, jailbreaking might be considered legal, while in others, it may be a violation of copyright laws or terms of service agreements.
In the United States, for example, the Digital Millennium Copyright Act (DMCA) includes provisions that prohibit the circumvention of digital rights management (DRM) and other security measures. This has led to rulings that certain forms of jailbreaking could be considered illegal.
However, the legality of jailbreaking is a complex and evolving area of law, and different countries might have different perspectives on the matter. Additionally, the legality may vary depending on the specific device being jailbroken and the intended use of the jailbroken device.
It's essential to research and understand the laws related to jailbreaking in your country or region before attempting to jailbreak a device. Engaging in unauthorized jailbreaking could lead to legal consequences, such as civil penalties or criminal charges. As always, it's best to err on the side of caution and abide by the laws and terms of service governing the use of your devices.
5. Does Chromecast have Android OS?
Both the 4K Chromecast and the HD Chromecast currently run on Android 12. The Chromecast with Google TV (HD) launched with a newer version of Android TV than the 4K model had at the time, but due to an update to the 2020 model, both devices now run the same software.
6. Can you Cast to Chromecast without the app?
Use your Chrome browser to enjoy videos, photos, music, and other content on your TV. Just click the Cast button in your browser and select your Chromecast device.
7. Is there a free Chromecast app?
Now, VLC Player offers cast support, making it a free and user-friendly Chromecast app. To utilize this feature, ensure that both your casting device and Chromecast are connected to the same Wi-Fi network. Once connected, a cast button will appear in the app, allowing you to effortlessly cast any content from your Android or iOS device to your TV screen.
8. What can built-in Chromecast do?
Chromecast integrated with cloud technology effortlessly delivers content to your television, ensuring top-notch HD video playback (and even Ultra High Definition video when used with compatible devices and applications), accompanied by premium sound quality. Maintain your productivity by sending messages and taking calls while streaming, all without interrupting the ongoing content on your TV screen or depleting your phone's battery life.
9. How do I enable developer mode on Chromecast with Google TV?
To reveal the developer options on Chromecast with Google TV, perform a rapid series of 7 taps on the Android TV OS Build section, mirroring the process used to activate developer options on other Android devices. Utilize the voice remote to guide you to the designated section, followed by 7 presses of the Select button to unlock the developer options.
10. How do I boot my Chromecast?
From the Google Home app
Make sure your mobile device or tablet is linked to the same account as your Chromecast.
Open the Google Home app.
Touch and hold your device's tile.
At the top right corner, tap Settings More settings Reboot.
11. What devices can Cast to Chromecast?
With Chromecast, you can project movies, TV shows, and photos on all your Android devices, iPhone, and iPad apps that support Cast. You can also project entire websites from the Chrome browser on Windows computers, Macs, and Chromebooks.
Conclusion
In this post, we delve into how to jailbreak your Google Chromecast and open up a whole new world of Android IPTV. Jailbreaking gives you more freedom and flexibility, making Chromecast more personal and diverse. But, it is important to keep in mind that jailbreaking may violate Google's warranty policy and may result in device damage or data loss if done. So, before jailbreaking, be sure to read the relevant guidelines in detail and be responsible for your actions.
As the technology continues to be updated and Android IPTV content continues to be enriched. we look forward to further growth of the Chromecast jailbreak community in the future. But in any case, whether you choose to jailbreak or not, Chromecast will continue to entertain you as an excellent streaming device.