XtrixTV stable IPTV standard plan for 3 months
XtrixTV standard 3-month subscription code is 93 days. The XtrixTV standard package is the most stable IPTV subscription. The service is stable and the picture is clear. See if you are satisfied with our stable IPTV service.
Click here: subscription to stable IPTV
Purchase the other IPTV subscription plans here
How to use XtrixTV Stable IPTV Standard Subscription?
Please follow the below two steps to install and activate the code:
1. Please download and install the XtrixTV APK version on your device.
Android Box APK (STB Version) for a run on for Android TV Box, Android TV Stick, Android Smart TV
Tablet / Phone APK (PAD Version) for a run on for Android PAD&Phone
2. Please input the activation code in your APK to open the channels.
Notice:
(1) You can check your IPTV subscription code in your user center: My Account>Orders>Code
(2) XtrixTV Plus Package now supports multi-devices with a family package. You can order a Sub-Device code to save 60% for the bedroom (the second yearly code).
Check out the XtrixTV IPTV Family Package and start a free trial here.
Why XtrixTV Stable IPTV Subscription?
Xtrix TV vs Xtrix TV Plus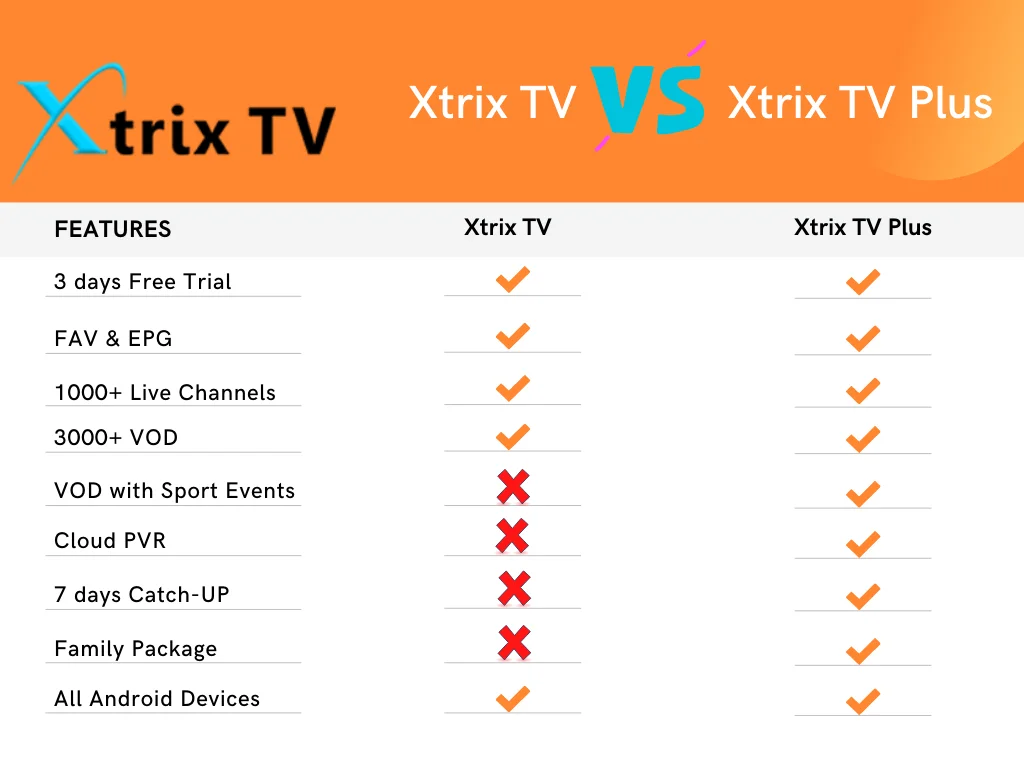 Click here to buy Xtrix TV Plus IPTV for 1 Month Plan
FAQ's
Why doesn't the IPTV code work?
There would be some reasons for the subscription code not working. Please check as below:
Please make sure the IPTV code is input correctly.
If still a problem, please check whether installed the Apk with the correct version.
There are two versions: Standard Package with Blue color(Xtrix TV) and Xtrix TV Plus Package with Red color.
So please check which Package subscription code you ordered.
If the above does not help, please contact our support email directly. support@xtrixtv.shop
If you bought the wrong Package subscription code, please contact us to exchange it for you, but need to pay the balance of the change from the Standard Package to the Plus Package.
How To Find Your IPTV Subscription code?
You will find the IPTV Subscription code in the email we send you once your order has been processed.
Or you can go to the XtrixTV website and view your IPTV code by following the steps below.
Log on to the XtrixTV website>My Account>Orders>Code (This is your IPTV code)
How do you use IPTV on supported devices?
XtrixTV is Compatible With Most Android Devices, which can run on Android devices like Samsung Mobile phones, Pad, TV Box, Smart TV, Fire Stick, Fire TV, Shield TV, NVIDIA SHIELD box, Enimga2 DVB Box, and so on. These two tutorials will show you how to use IPTV on an Android device and how to use IPTV for Firestick