Buffering or freezing is a common problem faced by IPTV users. Most premium IPTV services typically do not lag or buffer on their streams, such as XtrixTV.shop.
But some poorly configured or buggy programming could cause some services badly buffered.
This is a complete guide to fixing IPTV Lag, buffer, and freezing in 2022.
Let's take a closer look at the 6 ways to solve the most commonly used IPTV lag, buffer, and freezing.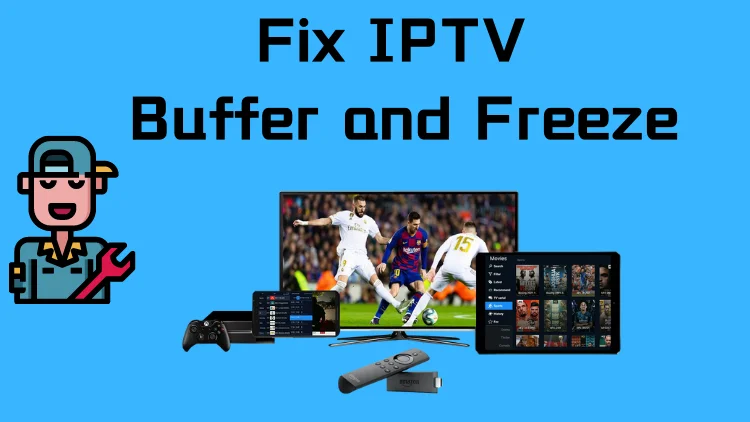 Method 1 Set up or restart your WIFI
IPTV streaming will buffer or freeze when your Wi-Fi is experiencing significant interference or if the IPTV provider network is congested.
Here are some steps to help alleviate video buffering, freezing, or stuttering with your IPTV service:
If your device is connected to the 2.4 signal, move it over to the 5.0.
If you're in the midst of downloading files or updating software, pause or stop the processes.
Change the wireless channel on your router.
If several devices are connected to your wireless network, disconnect inessential devices from your Wi-Fi while streaming.
Turn the power to your wireless router off for five seconds, then turn it back on. This should force your router to automatically use a Wi-Fi channel with less interference.
Method 2 Restart the TV/Firestick/Box
If you're constantly experiencing buffering and freezing problems while watching your favorite TV show or movie, you might want to restart your router, as well as your IPTV device.
The set-top box whether it's a Shield Pro or Firestick or any android or Mag device has background apps running and also has processing and depends on RAM. If it's used for a long time or getting a load from background apps, can cause the CPU and GPU to overheat, resulting in the IPTV App performing slower. Restarting the device helps it clear the useless processes. You can also Close Background apps by other means.
Method 3 Check the Internet Speed
It's a good idea to check that your broadband speed and data allowance are high enough before you sign up for a streaming service.
You can test your Internet Speed with a few apps that are available on the Firestick App store and also the Play Store.
You'll need:
A minimum broadband speed of 3Mbps to stream without buffering issues.
At least 2GB to stream a two-hour movie. The data allowance required will depend on whether you watch in standard definition, HD, or ultra-HD.
The Most Popular Speed testing apps are:
Internet Speed Test App
Analytics
www.testmy.net (From any browser such as Chrome)
Disconnecting extraneous devices from Wi-Fi while streaming can improve your internet speed.
Method 4 Connect the device to the Router
Even if your IPTV device is close to your router, it still might not have a stable and fast connection. This is why you should seriously consider connecting it to your router by utilizing an Ethernet cable, mostly because it'll provide you with a quicker and more stable connection.
If the router is located in another room – which will make it more difficult for you to connect it to a cable – you could call your provider and ask whether or not they can come to your home and connect it to the router. Keep in mind, it'll probably cost some money for them to do so, but at least you'll have a stable Internet connection.
Method 5 Change decoding mode
There are two main types of Video Decoders: Hardware Decoder and Software Decoder.
For any sort of set-top box, always choose hardware decoding: it has superior picture quality and smooth playback. Check out this IPTV decoder guide to learn more about IPTV decoding
Method 6 Use a Premium VPN
Using a VPN helps your Streaming Speed Stabilize and Enhance along with protecting your privacy. Most Internet Service Providers are with Cable and VOD services so they wouldn't want their customers streaming from outside their network, yet they have fewer resources to fill the demand gap.
So they throttle speed and it's mostly done manually or with an algorithm that detects your usage. Using a Premium VPN, will mask your connection id and provide you the Freedom to browse and stream.
Most Popular and well-known VPN
ExpressVPN
Astrill VPN
Nord VPN
Surf Shark
Conclusion
Your IPTV devices and services may experience freezes, buffering, lag or the picture does not match the sound. And, if you choose to follow some or most of the tips and tricks we've mentioned in the list above, you should be able to find a solution to the specific problem you're having.
You can now try an XtrixTV.shop subscription and finally start enjoying your favorite TV shows and movies without freezing, buffering and lag. Click here to start your three-day trial
Related tutorials: