If you have multiple IPTV devices and want to share IPTV channels and programs with your family. Xtrix TV is an IPTV provider, that allows you to connect various devices. And can help you save over 35% on a second device subscription.
This tutorial will cover obtaining and using the Xtrix TV Standard Family Package manual guide. Install it and you will never miss any more exciting programs.
What is Xtrix TV Standard Family Package?
XtrixTV is a premium IPTV service with over 1000 live channels, over 6500 latest movies, TV shows, live world sports, and much more! With a powerful stable application server, watch live TV without buffering and stalling.
The Standard Family Package provided by Xtrix TV allows users to connect two devices. With the family package, You can enjoy the same IPTV service on your Android Phone or Android PAD, also You can enjoy it in your Living Room or Bedroom or Outside, saving a lot.
Check out What is Xtrix TV Standard Family Package? For more details.
Features of Xtrix TV Standard Family Package:
More than 1,000 live channels
Free 3-day trial
Android devices
7 days Favorites &EPG
A connection
VOD with more than 6500 recent and popular movies
1 x standard 12-months subscription
1 x Sub 12 months subscription
2 Connecting Devices
Save Over 35% for Family Second Device
IPTV Family Package tutorial guide
Let's learn about Xtrix TV Standard Family Package. I hope it will be helpful to you.
How to get Xtrix TV Standard Family Package?
Before you can use the Xtrix TV Standard Family Package, get an IPTV Family Package subscription. Otherwise, it cannot be used. Here are the steps:
Step 1: Open your browser and enter https://xtrixtv.shop/, then go to the Xtrix TV IPTV home page.
Step 2: Click the "subscription" button to enter the subscription page.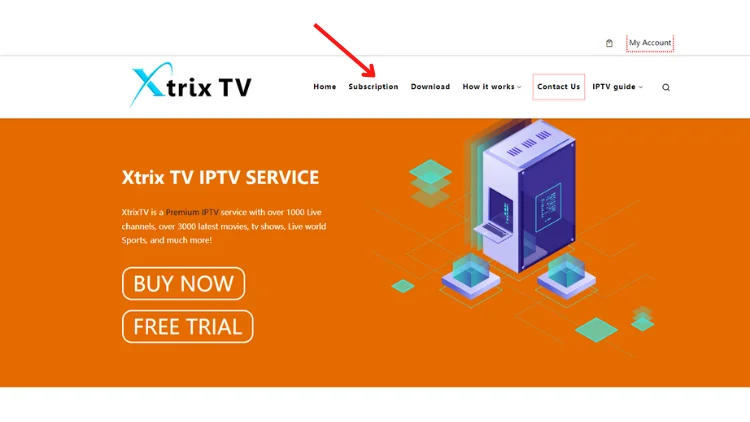 Please note: before clicking subscription, you need to register your own Xtrix TV account. If you haven't already, check out how to register your Xtrix TV account for free
Step 3: Scroll down, select Sub-device or Family Package #4(Standard), and click "ORDER".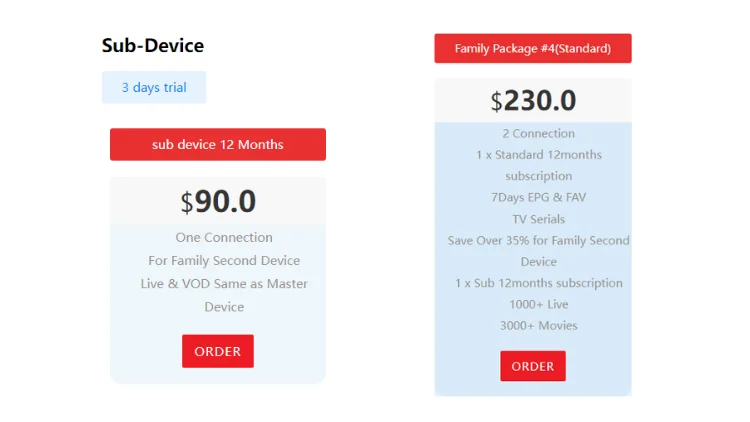 Please note that Xtrix TV IPTV offers Sub-Device 3 Days Trial. Allow users to check the quality and stability of the server in advance before purchasing.
Step 4: After entering the ORDER page, click "PLACE ORDER".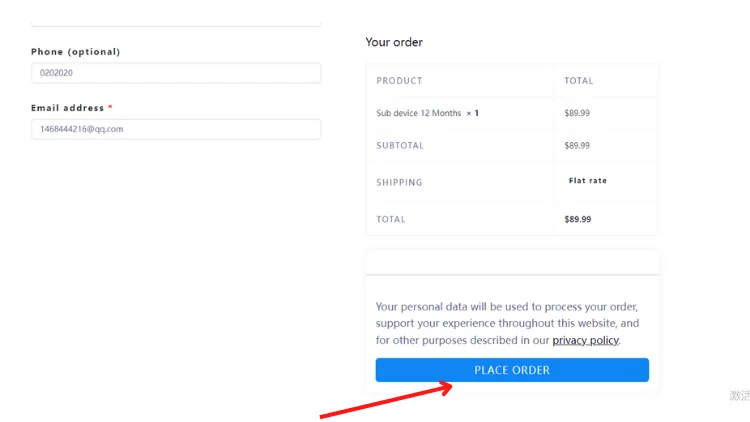 Step 5: Customer service will email you the IPTV subscription code.
Please note: Find the subscription code by (a) Go to My Account –Order –CODE (that is your Trial code), and (b) Or check your email/Spam. The Trial code is sent to your email automatically.
Again, remember the IPTV Subscription Code (Sub-Device Code and Standard Subscription Code) , which is the only certificate you have to log in and activate your Device!
How to Run the Family Package? It is easy and simple.
In contrast to most IPTV providers, Xtrix TV IPTV has its own set of APK installation packages. No need to go through a third-party application. Just type in the Xtrix TV APK download link on your device.
And allows a free trial of the Family Package on Android TV Box/Firestick/Nvidia Shield/Google Dongle/tablet. The following is a tutorial for installation and use.
Step 1:
Install the Standard version APK on Device A, then A=Master Device.
Install the Sub-Device APK on Device B, then B=Sub-Device.
If you don't have experience installing IPTV APK, check out the Xtrix TV IPTV installation tutorial guide. Let you easily install our installation package on your popular devices.
Step2:
Fill in the Subscription code (xxxxxxxxxxxt) on Device A to activate A,
Fill in the same Subscription Code (xxxxxxxxxxxt) on Device B to bind B with A.
For example, the IPTV Subscription display below:
| | | | |
| --- | --- | --- | --- |
| Active Code | UserID | Type | Valid Until |
| 17306689244t | 1111 | Master (Current) Device | 2022.011.21 |
| | 2222 | Sub-Device(Current Device) | 2021.07.16 |
Step3
Fill in the Sub device code on Device B to activate B. and then you can directly watch the live channel and VOD.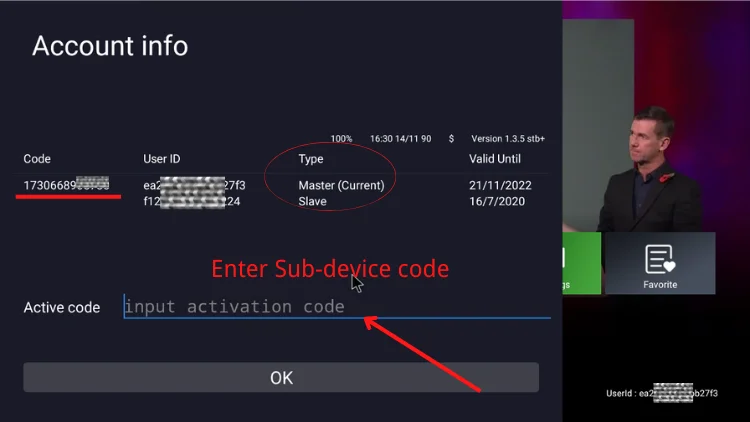 Expand knowledge:
Device A (Xtrix TV has Standard APK installed, Master device).
Device B (Sub-device APK installed).
IPTV subscription code:
Xtrix TV Standard Subscription code (Master device subscription code with "11 Arabic numbers" + End with a "t" ).
Sub Device code (Sub Device subscription code begins with the letter "e" + "10 Arabic numbers" + Ends with a "tc").
FAQS
Why does IPTV subscription activation fail?
If the subscription activation fails, it is automatically checked to (a) fill in the correct code, (b) or install the correct version of the Apk.
How many Devices/Rooms does the Family Package support?
Till now Family Package Standard version offers a max of 2 devices as Multi-Room / Multi-Devices subscription. If you want to support more devices, please try our Family Package Plus version
Note: One code is only for one device
What is the Master Device & Sub-Device?
A=Master Device, B=Sub-Device
Install the IPTV Standard version APK on Device A.
Install the Sub-Device APK on Device B.
After Activated Subscription code (xxxxxxxxxxxt) on Device A, then bind Device B by filling in the same Subscription code (xxxxxxxxxxxt) on Device B.
Then Device A becomes Master Device; device B becomes Sub-Device.
What are the functional differences between Master-Device and Sub-Device?
The Master Device and sub-devices in the Xtrix TV family plan do exactly the same thing.
Why there are two valid dates for Master Device & Sub-Device?
The Valid Date of the Master Device & Sub-Device can be the same or different. Because they are with each own date.

Check out more FAQS about Family Packages.
Conclusion
By subscribing to the Xtrix TV Standard family package, you can not only get a large number of IPTV channels and live shows but also connect to one more device, so that you and your family can enjoy different exciting content together.
Related articles
What is Xtrix TV Standard Family Package?