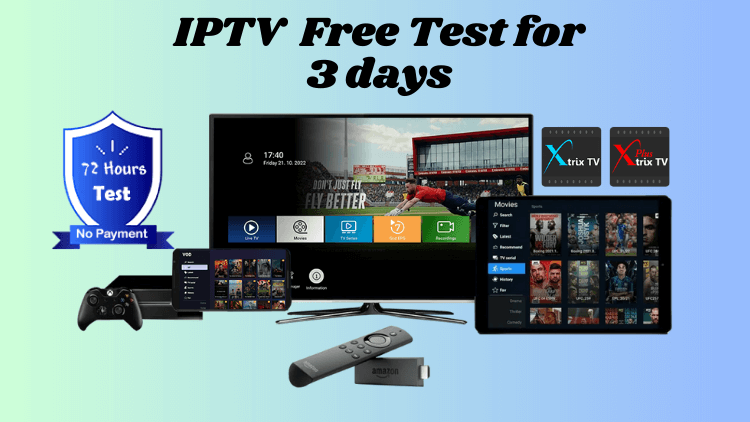 With the continuous development of modern technology. people are more and more inclined to watch TV programs through the Internet. With the popularity of the Internet, IPTV has become the first choice of more and more people. In this space, Yeah IPTV and XtrixTV IPTV are two popular IPTV services. But what's the difference between the two? In this article, we'll do the ultimate comparison to help you decide which IPTV service is better suited to your needs.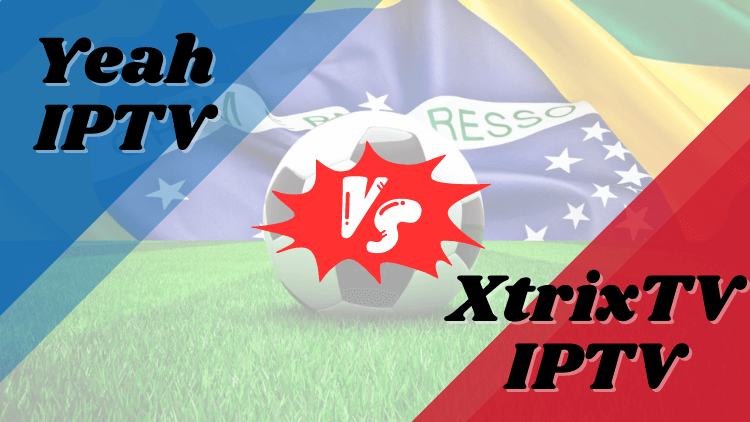 Yeah IPTV VS XtrixTV IPTV Comparison
Take a look at the table below, where I'll lay out for you the benefits and features of Yeah and XtrixTV IPTV subscriptions. So you can see the difference between them.
| | | |
| --- | --- | --- |
| | Yeah IPTV | XtrixTV IPTV |
| Free Trial | 1 DAY | 3 DAYS |
| Price | US$11.9 – US$89.99 | US$19.99 – US$199.99 |
| Channels | 4800+ | 1300+ |
| VOD | √ | √ |
| Quality | SD, HD, FHD, and 4K quality | FHD, HD, SD |
| Supported Devices | TiviMate, IPTV Smarters, GSE Smart IPTV, MyTvOnline2, Perfect Player, VLC, and many more. | Amazon FireStick, Android Devices |
| M3U URL | √ | × |
| Xtream Codes | √ | × |
| IPTV Code | × | √ |
| Instant Activation | × | √ |
| Ratings | | |
What is Yeah IPTV?
Yeah IPTV is a subscription-based IPTV service, and IPTV subscriptions are affordable. Offers over 4800+ live channels and plenty of VOD options. includes national, adult, entertainment, sports, and PPV programming channels.
How much is the Yeah IPTV Subscription plan?
Yeah IPTV subscription plans are divided into 1 month/3 months/6 months/12 months packages. It has two modes of plans, one connection and two connection subscription plans. The latter supports many rooms and 2 connections and is more expensive.
| | | |
| --- | --- | --- |
| Subscribe Plan | Pricing | Connection |
| 24 Hour | $2 | 1 Connection |
| 1 Month | $11.99 | 1 Connection |
| 3 Months | $29.99 | 1 Connection |
| 6 Months | $49.99 | 1 Connection |
| 12 Months | $89.99 | 1 Connection |
| 1 Month | $21.99 | 2 Connection |
| 3 Months | $54.99 | 2 Connection |
| 6 Months | $87.99 | 2 Connection |
| 12 Months | $159.99 | 2 Connection |
Yeah IPTV Pros:
More than 4,800 channels, many of them HD quality
Plans start at less than $13 / month and offer premium options
A 24-hour trial is available for under $2.00
VOD options for movies and TV shows
A connection to the standard plan, but you can get more
VPN friendly
Massive international channel
Access to major sports packages and PPVS
M3U URL provided
Electronic Programme Guide (EPG)
The IP address is not locked
No contract, monthly payment
Accept bitcoin
Customer support is provided via email and its online contact sheet.
Yeah IPTV Cons:
You may encounter issues such as a shaky connection or poor video quality, which may affect the viewing experience.
Some TV channels may be blocked due to copyright issues.
The quality of its services and content may vary compared to other IPTV providers.
Yeah IPTV free beta costs $2 bitcoin. It's not completely free.
What devices does Yeah IPTV work with?
TiviMate, IPTV Smarters, GSE Smart IPTV, MyTvOnline2, Perfect Player, VLC, and many more.
How soon can we use Yeah IPTV?
You need to install the application and then sign up for a subscription on its official website. Because Yeah IPTV provides an M3U URL, you can use this service with the IPTV player. For example, IPTV Smarters, Perfect Player, Tivimate, etc.
Yeah IPTV Channel List
Yeah IPTV offers 4800+ live channels from all over the world and plenty of VOD movies and more. Including international, adult, news, entertainment, sports and PPV, and other valuable channels.
How do I stream Yeah IPTV on Android or Firestick?
Yeah IPTV offers an M3U URL, meaning you can stream Yeah IPTV using any popular IPTV player.
1. Buy a Yeah IPTV Subscription.
2. Go to Google Play or the Amazon Store, search for the Downloader App, and install it.
3. Enter the download link to your favorite IPTV players in the Downloader App, such as IPTV Smarters Pro, TiviMate, or Flix IPTV.
4. Open the IPTV player, enter the M3U URL, and watch live channels, TV shows, movies, etc.
Yeah IPTV is a newer IPTV service provider. It offers a variety of subscription options, including a basic plan and a premium plan. and users can choose different options according to their needs. The service offers a variety of different channels, such as movies, sports, news, kids, etc., as well as a variety of languages and regions. One of the advantages of Yeah IPTV is its easy-to-use interface, which makes it easy for users to find the shows they want to watch. Also, Yeah IPTV also provides quick technical support to ensure the user experience. Compared to IviewHD IPTV, its feature options and stability may not be as good.
Now let me introduce Yeah IPTV Alternative: XtrixTV IPTV.
What is XtrixTV IPTV?
XtrixTV IPTV– The best feature service is the FAV setup list addition and Favorites, as well as 7 Day catch-up and PVR recording. It offers live channels in the UK, Australia, Ireland, Greece, and European countries 1300+, VOD 3000+.
XtrixTV is the preferred IPTV service for sports fans because of its stable offer. The fast and unbuffered live IPTV experience impresses users.
How much is the XtrixTV IPTV Subscription plan?
XtrixTV IPTV has a wide variety of IPTV packages, with two plans available: Iviewtv and XtrixTV Plus. It has also introduced a subscription plan for the family plan, saving most families more than 60%.
| | | | |
| --- | --- | --- | --- |
| | XtrixTV | XtrixTV Plus | Connection |
| 3 Days Trial | $0 | $0 | 1 Connection |
| 1 Month Plan | $19.99 | $32.99 | 1 Connection |
| 3 Months Plan | $49.99 | $79.99 | 1 Connection |
| 6 Months Plan | $79.99 | $129.99 | 1 Connection |
| 12 Months Plan | $139.99 | $199.99 | 1 Connection |
| | | |
| --- | --- | --- |
| Name | IPTV subscription time | IPTV subscription price |
| Sub Device | 3 days trial | $ 0 |
| Sub Device | 12 months | $90.0 |
| Family Package #1 | 12 months | $285.0 |
| Family Package #2 | 12 months | $370.0 |
| Family Package #3 | 12 months | $450.0 |
| Family Package #4 | 12 months | $230.0 |
Feature of XtrixTV IPTV
XtrixTV IPTV Pros:
Available Free 3-day trial
Stable Server and has No buffering
Offer PPV and Premium channels
Provide EPG (TV Guide)
7 Days Catch Up
Cloud PVR with 40 hours of storage
Customized App
XtrixTV IPTV Cons:
Only Android and Firestick devices are supported
Not compatible with third-party players
1 Connection 1 Code
The price is high, but it's worth it
What devices are compatible with XtrixTV IPTV?
XtrixTV IPTV offers a customized IPTV APP that can be installed on any device running the Android operating system.
Amazon Fire TV / Stick / Cube
Android TV / TV Box / Phone / Pad / Tablet
How long before I can use the service?
XtrixTV IPTV is an instant-activated IPTV that will be activated and sent within 2 minutes by an automated system upon submission of an order. Users don't have to wait for a long time to watch upcoming sports events immediately after purchase.
XtrixTV IPTV Channel List
Compared to Yeah IPTV, XtrixTV IPTV doesn't offer a lot of channels, only 1300+ live TV channels and 3000+ VOD, but it contains a lot of premium channels, and if you're a football fan, you'll find all your favorite channels in it. These channels include the UK, Germany, Italy, Australia, Greece, and more. See the full XtrixTV IPTV Channels list.
How to stream XtrixTV IPTV on Android or Firestick
Visit the XtrixTV website and purchase an IPTV subscription.
Go to Google Play or the Amazon Store, search for the Downloader App, and install it.
Enter the download connection of the XtrixTV IPTV App in the Downloader and complete the installation as prompted.
Open the XtrixTV IPTV App, enter the IPTV activation code, and start streaming your favorite shows or sports events.
Click to see: get the XtrixTV IPTV subscription code and get an Xtrix TV IPTV for Free or Paid.
XtrixTV IPTV review:
XtrixTV IPTV is a popular IPTV service. It offers over 1300+ live channels and over 3000+ VOD of the latest movies and classic old movies. A wide range of coverage. Users can enjoy high-quality streaming and video from different devices. XtrixTV IPTV has an independent server, for the majority of users to provide stable services and technical support. To ensure the best viewing experience for users. It has plenty of options. It is a service that sports fans can only trust. Seven of those days are popular with sports fans. It's a good stoppage service. Since then, we no longer have to worry about getting up in the middle of the night to exercise. This is where you can view a large number of the most authentic user reviews.
Relevant: Top Reviews 2022 | Best premium IPTV Service
FAQ
1. Is Yeah IPTV And XtrixTV Safe To Use?
Both IPTV services are very popular with users. If you have any doubts, please get a free trial of IPTV to check the quality and channel list of both IPTV services.
2. Which IPTV service is better, Yeah IPTV or XtrixTV IPTV?
Also to some basic considerations, choosing an IPTV service is proportional to your price. Yeah IPTV offers a wide range of live channels and VOD movies, but their subscription prices are for customers looking for a low-cost experience. With XtrixTV IPTV, but, it's more selective, especially the catch-up feature that sports fans love. So IviewHD is the best option.
3. What are the alternatives to Yeah IPTV besides XtrixTV IPTV?
There are various alternatives to Yeah and XtrixTV IPTV, such as:
IviewHD IPTV: A sports-focused streaming service that provides a broad range of live sports and other TV channels.
conclusion
To sum up, Yeah IPTV and XtrixTV IPTV have their own advantages and disadvantages. If you're looking for more reliability and stability, XtrixTV IPTV might be a better choice. For sports fans, opt for XtrixTV IPTV's 7-Day Catch-up. She won't let you miss any time in the last seven days. It's a good stoppage service.
But, if you want a wider library of content and a more affordable price, then Yeah IPTV may be better for you. Consider your needs, budget, and personal preferences before making a final decision. No matter which brand you choose, remember to research and compare the different options before buying to ensure you end up with the best service. Before that, then you can choose IPTV free test, to let you understand the stability of the IPTV service.
Relevant