Xtrix TV is one of the best IPTV service providers. The Xtrix TV package now supports multiple devices with a family package. You can order sub-equipment codes to save 60% on bedroom costs (second annual code). This article will cover all the relevant information about the Xtrix TV Family Package.
What is Xtrix TV IPTV?
Xtrix TV has over 4 years of reliable and stable IPTV TV service, over 1000 US and European live and popular channels, VOD of over 3000 latest movies, and 7-day EPG functionality.
It comes with IPTV Standard and Plus. There are now two separate packages for families, which can provide IPTV service to up to four devices at a time.
This article will cover the Xtrix TV Plus IPTV Family Package in detail. Follow me to learn more about the IPTV Family Package, including the functional benefits it provides and the significant savings you can make on your IPTV subscription plan.
Learn more about Xtrix TV Standard IPTV Family Package.
Why choose Xtrix TV Plus IPTV Family Package?
When you own Xtrix TV Plus IPTV Family Package subscription codes, you can purchase sub-device codes for your family on 2/3/4 devices! Save money and have more family fun!
The standard version of IPTV on the basis of a number of advanced features is the best choice for sports fans.
Xtrix TV Plus uses a family package that provides a 7-day catch-up (playback) of over 200 very important channels, very important sports, and events. And the ability to provide IPTV Cloud PVR.
Xtrix TV Plus Family Package Description
With the Xtrix TV Plus Family Package manual, you can learn all about the Plus version of the Family Package, which will suit your needs.
Number of channels offered
Xtrix TV offers HD quality of over 1000 regular and premium channels with access to over 3000 movies and TV shows (VOD). Best of all, the Plus Home Pack offers the above channels as well as live updates on major sporting events. It's well worth it for sports fans!!
3-day free trial of IPTV
The Xtrix TV Plus version of the family package is one of the most popular live TV options among wire cutters, especially among sports fans. You can enjoy a 3-day trial of the best IPTV completely free with the standard family package. Test quality traffic and stability before deciding to purchase an IPTV subscription.
FAV (Favorites) and EPG
The Xtrix TV Plus edition family package offers FAV (Favorites) and EPG features, allowing users to add favorite channels to FAV groups or create new live channel groups. With EPG's capabilities, users can watch current and upcoming shows and switch channels.
7 days Catch Up
Xtrix TV Plus offers a 7-day catch-up feature that lets you go back any time in the past few days to view a record of a specific TV show/event in the past. You can watch almost anything, from live sporting events (including pay-per-view (PPV) events) to documentaries, TV series, and movies.
See a free tutorial on how to use the catch-up feature.
Cloud PVR
Xtrix TV Plus Package provides an IPTV recording function (cloud PVR function), allowing you to record a total of 20 files /40 hours, which can be saved forever!
See a free tutorial on how to use the PVR features.
Number of Connected Devices
The Xtrix TV Plus Family Package connects to the 2nd/3rd/4th Device, allowing you to connect 1 to 3 sub-devices in addition to the main device. You can watch the same live TV from your bedroom or anywhere on your phone or PAD, but at a significant cost.
IPTV subscription Plan
Xtrix TV Plus family package subscription types, subscription details below:
| | | | |
| --- | --- | --- | --- |
| Package Type | Subscription plans | Number of Connected Devices | Price |
| Sub-Device | 1 x Sub-12months subscription | 1devices | $89.99 |
| Family Package # 1 | 1 x Plus 12months2 x Sub 12months subscription | 2 devices | $284.98 |
| Family Package # 2 | 1 x Plus 12months3 x Sub 12months subscription | 3 devices | $369.97 |
| Family Package # 3 | 1 x Plus 12months4 x Sub 12months subscription | 4 devices | $449.96 |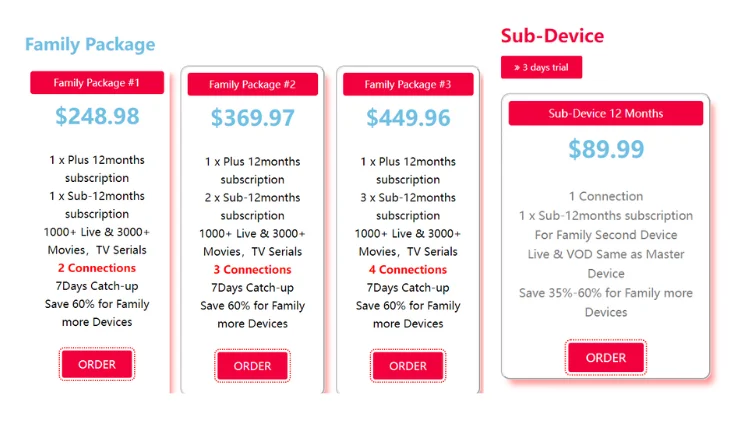 Standalone Xtrix TV Plus APK
The biggest advantage of Xtrix TV over other IPTV services is that it has a separate APK application, including the main device and sub-device installation packages. There is no need for third-party IPTV applications. It is also possible to stream IPTV content to your device.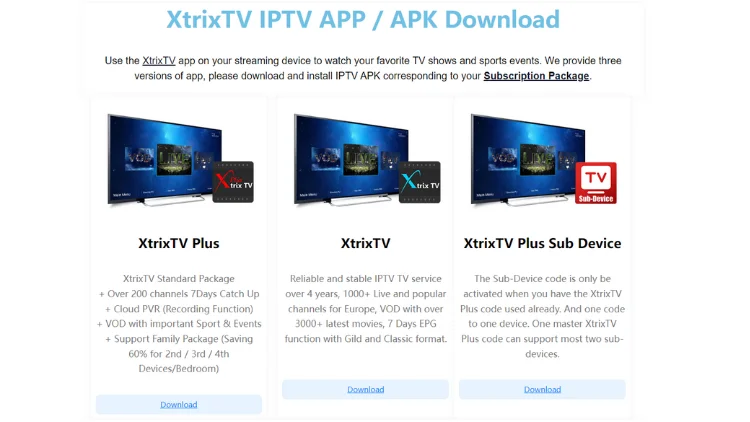 Plus version of the package compatible devices
Xtrix TV is compatible with most Android devices, It runs on Android devices such as Samsung phones, Pad, TV Box, Smart TV, Fire Stick, Fire TV, Shield TV, NVIDIA Shield Box, Enimga2 DVB Box, etc.
Customer support
If you subscribe to the Xtrix TV Plus Edition Family package, you will receive access to a 24/7 professional customer support team. In the process of use, any problem encountered, customer service at any time for you to timely solve, to provide security.
FAQs
What are the functional differences between the main device and the sub-device in the Plus family plan?
1.99% identical, including all live channels and VODs. 2. Only difference: The sub-device does not have the cloud PVR function. Because the current system does not support it.
What is a master device? What is a child/slave device?
Install the Plus APK on device A.
Install APK on device B.
Activate subscription code XXXXXXXXXXXXC on device A, fill in the same subscription code XXXXXXXXXXXXC, and bind device B to device A.
Device A becomes the primary device. Device B becomes the child device (the slave device).
How do I activate the 2/3/4 device? How do I use subdevice subscription codes?
Install APK on sub-equipment (second, third and fourth equipment). 2. Enter the subscription code (XXXXXXXXXXXXC) used on the primary device to bind the sub-device to the primary device (the first device). 3. Enter the sub-device subscription code (exXXXXXXXXXUc) to 2/3/4 devices. After the sub-device code is topped up, you can enjoy IPTV.
How many devices/rooms does the Plus Family plan support?
Up to now, family packages offer up to 4 devices as multi-room/multi-device subscriptions. Four devices require four subscriptions: one normal subscription code + three sub-device subscription codes.
Related articles
What is Xtrix TV Standard Family Package?
How to get and use the Xtrix TV Standard Family Package?